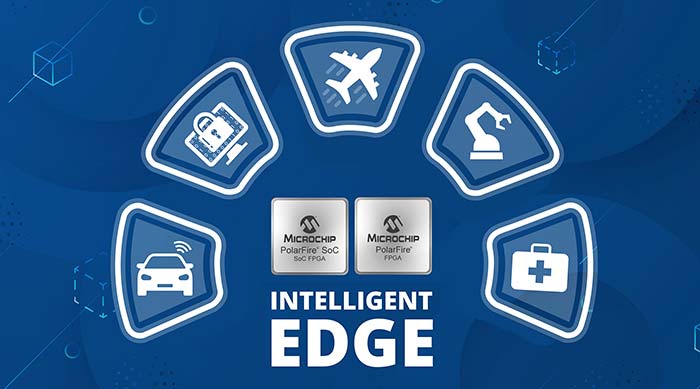 Designing systems for the intelligent edge has never been more difficult. Market windows are shrinking, the costs and risks of new designs are rising, thermal constraints and reliability are twin priorities and the need for cradle-to-grave security continues to grow. Satisfying these simultaneous demands requires immediate knowledge of special technology and vertical-market expertise. There's no time to start from scratch. Today, Microchip Technology Inc. (Nasdaq: MCHP) adds nine new technology- and application-specific solution stacks to its growing collection of mid-range FPGA and System-on-Chip (SoC) support. The stacks span the industrial edge, smart embedded vision and edge communications.
"We're making it much easier to create industry-leading industrial and communications designs," said Shakeel Peera, vice president of strategy for Microchip's FPGA business unit. "And our intelligent edge focus is getting significant traction with leading system designers because they get the full benefit of PolarFire FPGA's unequalled power efficiency, security and reliability."
"Size, weight and power are extremely important considerations in designing a thermal imaging system," said Federic Aubrun, CCO of Xenics, a pioneer in infrared imaging, with best-in-class products for short-, mid- and long-wave IR imagers, cores and cameras. "Microchip SmartFusion® and PolarFire FPGAs provide the best balance between small form factor, power efficiency and processing resources within an extremely low power budget in our current and next-generation products."
"We use PolarFire FPGAs because of their small footprint and energy efficiency," said Michael Yampolsky, founder and CEO of KAYA Instruments. "They enable our cameras to fit into tight spaces while getting high quality, low noise, excellent dynamic range and large feature set utilizing the latest CMOS sensor technology. Using PolarFire FPGAs on our platform allows us to bring our latest vision technology to market quickly for our customers' needs." KAYA designs industrial-grade imaging equipment, including small-form-factor and low-power cameras and frame grabbers that provide outstanding video quality in average to extreme ambient light conditions.
The news of Microchip's expanded solution stack collections follows the June announcement of an industrial edge stack for OPC/UA (Open Platform Communications/Unified Architecture) and extensive resources to help customers switch to PolarFire FPGAs and SoCs.
Tailored Solution Stacks—Only for PolarFire FPGAs and SoCs
Unlike alternatives that offer baseline support for overly broad application categories, PolarFire FPGA intelligent edge solution stacks are highly tailored to specific technologies and vertical-market requirements and include detailed intellectual property (IP), reference designs, development kits with sample designs, application notes, demo guides and more.
Microchip is offering new PolarFire FPGA and SoC intelligent edge solutions and stacks for the following applications:
Smart embedded vision:
Industrial edge:
Edge communications:
About the PolarFire Family
Microchip's PolarFire family offers twice the power efficiency of FPGAs in its category with the highest reliability and military-grade security. These FPGAs are the first—and currently still only—RISC-V SoC FPGAs shipping in production volumes. PolarFire SoC devices create new configurable processing capabilities through hardened RISC-V core complexes in a fast FPGA fabric and they are playing an integral role as computer workloads move to the power-sensitive intelligent edge. Their capabilities will be extended with a roadmap to increased compute capability in ever-smaller and less costly industrial, IoT and other edge-compute products. All PolarFire devices are in full production and developers can access the software tools to begin designing with them here. The devices, solution stacks and tools are complemented by Microchip's total system solutions spanning hardware, software, services and other support.