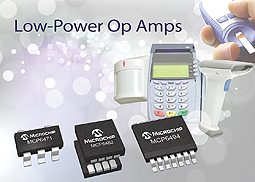 Microchip announces a new nine-member low-power, general-purpose operational amplifier (op amp) family – the MCP647X/8X/9X. These op amps provide among the industry's best power consumption for a given gain-bandwidth product, including low quiescent current, to extend battery lifetimes. Additionally, they have exceptionally low leakage current over temperature, up to 125°C, which reduces errors in applications such as sensor conditioning. In combination with features such as input offset voltage of 1.5mV and space-saving packages as small as SC70 and SOT-23, these op amps are ideal for a broad range of portable applications in the consumer, industrial, automotive and medical markets.
The designers of portable, battery-powered applications are challenged to lower power consumption and reduce cost and board space without compromising on the robustness and accuracy of their signal chains. The MCP647X/8X/9X family of general-purpose op amps provides low supply current, low leakage current over temperature and low input offset voltage in small packages, which offers one of the industry's best cost-to-performance ratios. In fact, the 1.5mV offset voltage offers better precision than the industry standard for general-purpose op amps, without the price premium of high-precision op amps. For applications that have sensors with high output impedance, or that go through accelerated life tests at high temperatures, the MCP647X/8X/9X's low leakage current is particularly important.
All nine members of the new MCP647X/8X/9X op amp family are available today for sampling and volume production. The MCP6471, MCP6481 and MCP6491 are offered in 5-pin SC70 and SOT-23 packages. The MCP6472, MCP6482 and MCP6492 are available in 8-pin SOIC, TDFN and MSOP packages.
The MCP6474, MCP6484 and MCP6494 are available in 14-pin SOIC and TSSOP packages.
Microchip Technology
www.microchip.com/get/LXDC