Microchip announces an expansion to its SPI Serial Flash Memory portfolio, with the introduction of the SST25WF020A, SST25WF040B and SST25WF080B devices.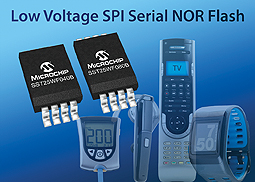 These devices offer 2-, 4- and 8-Mbit of memory and are manufactured with Microchip's high-performance SuperFlash® technology and NOR Flash cell architecture for superior quality and reliability.
With a low-operating voltage range from 1.65 to 1.95V, extremely low-power consumption, small-footprint, and low-profile packaging, these SPI Flash memory devices excel in a variety of applications. The memory is partitioned into uniform 4 Kbyte sectors and 64Kbyte blocks, offering flexible erase capabilities and seamless partitioning for programme and data code in the same memory block. These devices enable designers to improve product performance and lower system cost during the design cycle and manufacturing. The range provides designers with a low-voltage option on the power-supply voltage for their chipsets and board designs, and reduces overall power consumption, making these Flash memory devices especially suitable for battery-operated accessories, por­table medical devices, and Bluetooth®/Wi-Fi®-enabled devices such as remotes, headsets and hearing aids.
SST25WF020A, SST25WF040B and SST25WF080B SPI Flash memory devices offer flexible erase and programme performance, including erasing 4Kbyte sectors as fast as 40ms, erasing 64 Kbyte blocks as fast as 80 ms, erasing the entire Flash memory chip in 300ms, and a programming time of 3ms for a 256-byte page using Page Programme. The devices also offer Fast-Read Dual I/O and superior typical reliability of 100,000 endurance cycles, and greater than 20 years of data retention. The active read current of these devices is typically only 4mA at 40 MHz, and typical standby current is only 4µA. Package options include an 8-pin USON (2 × 3 mm) that uses one-fifth of the board space of the traditional 8-pin SOIC.
Microchip Technology
www.microchip.com/get/1NHK