Ericsson has introduced the third version of its high-power-density quarter-brick power module based on the company's innovative Hybrid Regulated Ratio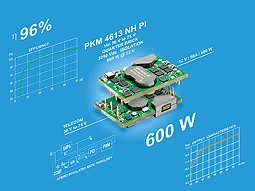 (HRR) topology. The PKM4613NH is designed to power applications that require stable voltage and offers available power up to 600W across a wide input voltage range of 36V to 75V and an operating temperature range of –30°C to +90°C. Combining voltage and duty-cycle regulation, the HRR technology makes it possible to operate high-power conversion across a wide input voltage range, while keeping power losses low, resulting in an efficiency power conversion of up to 96%.
The PKM4613NH comes in an industry-standard quarter-brick footprint and is designed to power ICT (Information and Communication Technologies) applications. The new DC/DC converter delivers 600W over the 42V to 75V range and matches a large variety of system bus voltages that are powered by multi-cell batteries or rectifiers commonly used in the ICT industry. Complying with the European Standard ETSI EN 300 132-2 for both 48V and 60V systems, slight derating of the product applies below 42V. However, a power of 580W remains available when reaching the low limit of the service voltage of 40.5V, as specified by the standard. In addition to providing 43% more available power than previous generations of intermediate bus converters, the HRR technology guarantees tightly regulated output voltage over the overall operational range, meaning that the voltage remains stable and safe for the target load in the case of line disturbance. Addressing the market for high-power-density boards and powering the intermediate bus, while supplying currents as high as 50A, the PKM4613NH delivers power through four power-pins, which means the reduction of power losses and improved thermal conduction across the motherboard.
Ericsson Power Modules
www.ericsson.com/powermodules