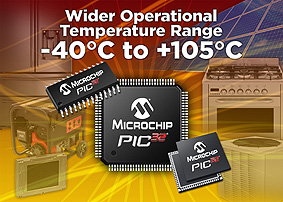 Key Facts:
• PIC32 microcontrollers operate over a wider temperature range of -40°C to 105°C
• Enables robust applications to benefit from 32-bit processing with PIC32 MCUs
• On-board peripherals for connectivity, graphics, audio, touch sensing and industrial CAN
Microchip announces that the 32-bit PIC32 microcontrollers (MCUs) now operate from -40°C to 105°C, extending their use into a wide range of robust applications in the communications, industrial, medical, automotive, appliance and renewable-energy markets. The newly-qualified V-Temp MCUs continue to provide the full range of PIC32 MCU features including peripherals for connectivity, graphics, audio, touch sensing and industrial CAN, to provide the most capable and cost-effective solutions for robust applications.
With their new, wider temperature-range qualification, of up 105°C, the PIC32 V-Temp MCUs give designers the flexibility to add features and functionality which help to differentiate their products in the marketplace, whilst maintaining the ability to operate under extreme temperatures. In addition, the MCUs provide full access to up to 128 KB RAM for simultaneous use with the Ethernet, USB and CAN buffers; as well as on-chip Ethernet, industrial CAN and USB modules with a built-in DMA interface to maximise data throughput.
To evaluate the advanced features of the newly-qualified PIC32 V-Temp MCUs, designers can use Microchip's complete PIC32 MCU tool suite which includes: low-cost starter kits; full-featured development and expansion boards; PICtail™ daughter boards and Plug-In Modules; as well as debuggers, the MPLAB® IDE and MPLAB C compilers.
The V-Temp PIC32MX3/4/5/6/7 MCUs are available in 64-pin QFN and TQFP packages, as well as 121-pin TFBGA and 100-pin TQFP packages. In addition, the recently introduced PIC32 MX1/2 MCUs are also being extended to the V-Temp range, and are expected to be qualified in late CQ4 in 28-pin QFN, SOIC and SSOP packages, as well as 44-pin QFN, TQFP and TLA packages.
For more information, visit Microchip's Web site at: http://www.microchip.com/get/D5N1
Microchip Technology
www.microchip.com