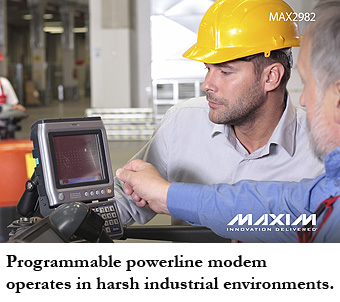 Maxim Integrated Products introduces the MAX2982, the first broadband, HomePlug® 1.0-compliant, powerline communications transceiver for harsh industrial environments. The MAX2982 is highly integrated and offers significant design flexibility. An enhanced "Robust" mode provides a receiver that operates at -1dB signal-to-noise (SNR) to ensure reliable communications in the presence of noise. The device operates from -40°C to +105°C and is qualified under AEC-Q100-Rev-G for harsh applications. The MAX2982 is an easy-to-use, industrial, broadband powerline communications solution for automation and control, remote monitoring, energy management, wireless base-station control and monitoring, and local area networking (LANs).
Industry Needs Reliable Cable Communications
Industry-standard, HomePlug 1.0 powerline communications chipsets have become commonplace in residential applications. Nonetheless, many industrial and commercial applications could not take advantage of the technology because existing products lacked the reliability and temperature ratings necessary for those uses. Further, commercial and industrial powerline environments have unique, high-noise characteristics not found in the residential environments where most HomePlug modems are used. Consequently, industrial applications need the powerline receiver and narrowband interference rejection circuitry to be optimized for reliable performance in their environments. Ultimately, the automation industry wants to deploy a single-cable power and communications network that provides long operating life, operates with high accuracy in their harsh environment, and reliably monitors and controls remote sensors, system, and motors. They want a proven reliable powerline network that functions for them. Now with the MAX2982, their solution has arrived.
Single-Cable Power and Control with Broadband Powerline Communications on AC or DC Lines
The MAX2982 is optimized for high-performance, real-time control, and automation applications. The device's low-latency 333µs response time and 14Mbps data rate support high-bandwidth data from large arrays of automated equipment in a single network. With its 512-address bridge table and point-to-multipoint addressing, the MAX2982 records, monitors, and controls hundreds of HomePlug modems in a network. This technology eliminates the traditional need for long, dedicated communication cables. Optional firmware delivers additional noise immunity to improve the communication range even further. The 56-bit DES/triple-DES (3DES) encryption with key management ensures secure communication.
Open Architecture Facilitates Optimized Applications
The MAX2982 is fully compliant with HomePlug 1.0 and its programmable application interface enables market-optimized firmware. A full range of interfaces includes 10/100 Ethernet, UART, USB, JTAG, MII, RMII, and high-speed FIFO. Boot code options allow application-specific MAX/PHY profiles, and each profile can be optimized for a variety of parameters. An upgradeable MAC enables application-specific spectral shaping, including bandwidth and notching capabilities. There are 24 general-purpose input/output (GPIO) pins for data handshaking and signaling across a network.
The MAX2982 transceiver can be coupled with the MAX2981 powerline analog front-end (AFE) and line driver for a complete broadband powerline chipset. The MAX2982 is available in a 128-pin lead-free LQFP package. Pricing starts at $12 (25k, FOB USA). For more information please visit: http://www.maxim-ic.com/Industrial-PLC
Maxim Integrated Products
www.Maxim-ic.com