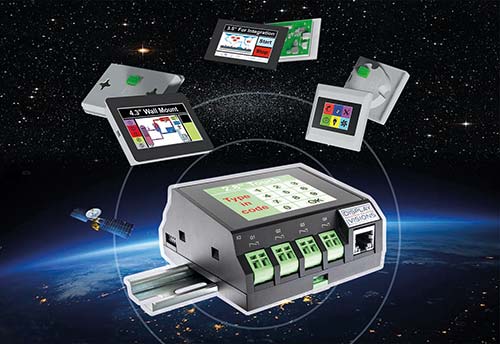 PLC controllers mostly work as "black boxes" in the control cabinet. The various sensors and actuators connected do their jobs with no noise whatsoever. Gaining insight into what's going on involves a great deal of effort, to a greater or lesser extent. The new PLC mini control unit family from DISPLAY VISIONS is particularly communicative: the controller itself has a colour touchscreen display, and addresses up to 50 remote satellite displays – to allow supervising, setup and completely customised views.
The PLC family central control unit, "Core", is as simple as the name suggests, and communicates your measurement and process data via a brilliant 2.8 inch IPS display. This has a touch panel for you to enter control commands and parameters, and is networked with the satellite units automatically. For this, the Core has Ethernet capabilities and an RS-485 interface, and it can also communicate wirelessly via WiFi. The measurement values and parameters are updated automatically as well. Here, the function of the satellite terminals is not linked to one location; instead this is assigned via software, allowing you to visualise process data, for example, via any connected display, or enter parameter data via a different device. Depending on the complexity of the input and output data, users can choose from displays of different sizes for the satellites. A 4.3" display is available now, but the product range will soon be expanded to seven versions with sizes ranging between 2" and 10.1". All versions stand out thanks to their excellent readability, even in sunlight, and a wide viewing angle of 160 degrees. You can choose from versions for various mounting forms (wall, flush-mount, top-hat rail).
The Core is designed for top-hat rail mounting and can be installed effortlessly in any control cabinet. For programming, the Windows PLCdesigner tool is available free of charge. It has a graphic WYSIWYG editor with numerous ready-made elements, allowing you to put together custom pages. You can also use this tool to adjust the brightness of the connected display.
Visit DISPLAY VISIONS at the SPS (Booth 330, Hall 8) in Nuremberg.