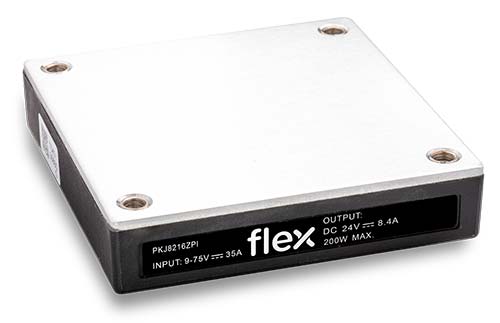 Flex Power Modules is expanding its range of industrial DC/DC converters with the release of an ultra-wide input part covering 9-75 Vdc (80 V / 1 s) with a choice of fully regulated outputs 12 V, 24 V, 48 V or 54 Vdc, rated at 200 W. The PKJ8200 series is in a baseplate-cooled industry-standard half-brick format with through-hole pins for board-mounted operation and features up to 91% conversion efficiency. This allows operation from -40°C to high ambient temperatures with a package limit of 110°C. For example, full load is available to 80°C ambient with no attached heatsinking with 3 m/s airflow for the 12 V output part.
The series has a particularly wide output adjustment range of -50% /+10%, settable by a single resistor, and full protection is included against input under-voltage, over-temperature, output over-current, over-voltage and short circuits. A remote sensing function and a primary-referenced remote shutdown pin are also provided.
The PKJ8200 series features 2250 Vdc input-output isolation (1500 Vdc input-baseplate and 1000 Vdc output-baseplate) and meets conducted EMC standards EN 55032, CISPR22 and FCC part 15J Class B with the specified external components.
The wide input range of the series make the parts suitable for demanding rail applications operating at nominal 24/36/48 V inputs with the supply dips and surges as specified in railway standard EN 50155. Shock and vibration levels specified in the standard are also met, along with the fire and smoke requirements in rail standard EN 45545-2.
David Xie, Director R&D and Product Management Shanghai, of Flex Power Modules comments "Our new PKJ8200 series, with its 8:1 input and wide output adjustment range, is ideal for rail and industrial applications where just one part can suit a variety of applications".