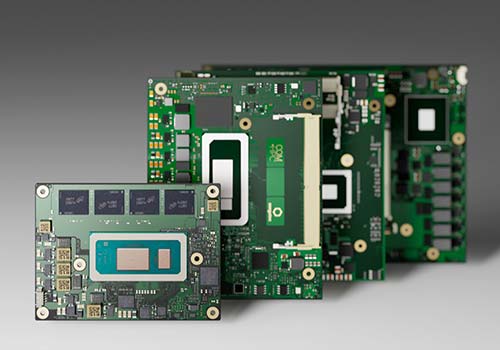 PICMG, a leading consortium for developing open embedded computing specifications, has announced the release of the COM-HPC 1.2 "Mini" specification. Measuring just 95 mm x 70 mm, COM-HPC Mini is nearly half the size of the next-smallest COM-HPC form factor and provides a cost-effective, lower power module for autonomous mobile robots, drones, mobile 5G test and measurement equipment, and other far edge applications.
A single, rugged 400-pin connector allows COM-HPC Mini to support communications interfaces such as:
16x PCIe lanes (PCIe 4.0 or PCIe 5.0)
2x 10 Gbps NBASE-T Ethernet ports
8x SuperSpeed lanes (for USB4/ThunderBolt, USB 3.2, or DDI)
8x USB 2.0
2x SATA ports (shared with PCIe lanes)
1x eDP
2x DDI
The 1.2 specification defines a separate FFC connector for MIPI CSI, while its 400 pins also support signals such as Boot SPI and eSPI, UART, CAN, Audio, FUSA, and power management signals. A signal voltage reduction from 3.3V to 1.8V on most pins is in line with reduced I/O voltage on the latest low-power CPUs. The input power is limited to a maximum of 107W at a wide input voltage of 8V to 20V, leaving plenty of headroom for performance processors.
"The COM-HPC size A started at 95 mm x 120 mm, but the market loves the Mini size as well as the performance you get with COM-HPC," says Christian Eder, Director of Product Marketing at congatec and Chairman of the COM-HPC Working Group at PICMG. "The whole trend of making things smaller and more power-saving was a reaction to market trends, and it will continue."
Mini's smaller footprint also provides mechanical advantages, such as a 15 mm stack height from the top of a carrier board to the top of a heat spreader stacked on a COM-HPC Mini module. This 5 mm reduction compared to other COM-HPC variants means COM-HPC Mini modules must use soldered memory, which makes them inherently rugged through resistance to shock and vibration and provides direct thermal coupling to heat spreaders.
"The new revision of the specification allows COM-HPC to address additional high-performance applications that require a smaller footprint," says Doug Sandy, CTO of PICMG. "COM-HPC 1.2 is a great solution that completes the spectrum of solutions of COM Express through COM-HPC Server Modules."
"The COM-HPC Mini specification leverages the high-speed capabilities and SI performance of existing COM-HPC interconnect solutions," says Matthew Burns, Global Director of Technical Marketing at Samtec. "Dropping one 400-pin connector enables small form-factors without sacrificing the data throughput demanded at the Far Edge."
PICMG members ADLINK, congatec, Samtec, SECO, and others have either already released or plan to release COM-HPC 1.2 product in the near future.
The COM-HPC 1.2 specification can be downloaded today for $750 from the PICMG website at www.picmg.org/product/com-hpc-module-base-specification-revision-1-2. A COM-HPC 1.2 Carrier Design Guide is scheduled for release in early 2024.
For more information, visit https://www.picmg.org/openstandards/com-hpc.