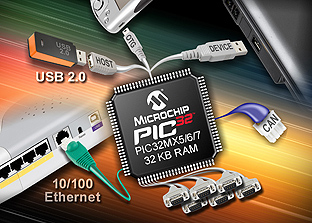 Microchip announces a new, six-member family of 32-bit PIC32MX5/6/7 microcontrollers that provides the same integrated Ethernet, CAN, USB and serial connectivity peripherals with new, more cost-effective memory options. Additionally, design enhancements also provide lower power consumption of 0.5 mA/MHz active current, higher Flash memory endurance of 20k read/write cycles, and better EEPROM emulation capability. By maintaining common pin-outs, the PIC32 portfolio also provides designers with the optimum balance of memory and cost for their high-performance applications as well as a seamless migration path for scalability and flexibility.
Key Facts
• Six new PIC32 microcontrollers deliver value across the price to performance ratio
• Design enhancements provide lower power consumption and higher Flash endurance
• Seamless migration path throughout the PIC32 family increases scalability and flexibility
The latest 80 MHz PIC32 microcontroller family helps embedded designers to lower their costs without sacrificing performance or functionality. The raw performance of the MIPS32® M4K® core has been maximised to achieve best-in-class performance of 1.56 DMIPS/MHz, with integrated Ethernet, CAN, USB and multiple serial communication channels, in addition to more cost-effective memory options. The family provides 32 Kbytes of RAM and up to 140 Kbytes of Flash. Each of the six new microcontrollers is available in five different pin-compatible packages: 100-pin TQFP 12x12mm, TQFP 14x14mm and BGA packages, as well as 64-pin TQFP and QFN packages.
Example applications for the new PIC32MX5/6/7 family include Communications: point-of-sale terminals, Web servers and multi-protocol bridges. Industrial: automation controllers. Medical devices and Security: monitoring equipment. Consumer: audio, MP3 decoders, displays, fitness equipment and small appliances. Automotive: aftermarket products, car alarms and GPS.
Two Starter Kits support easy development for Ethernet-based designs (PIC32 Ethernet Starter Kit DM320004 at $72) and USB-based designs (PIC32 USB Starter Kit II DM320003-2 at $55). There is also a $25 plug-in module (MA320003) for developing the PIC32MX5/6/7 family using the Explorer 16 Development Board (DM240001).
For more information visit Microchip's Web site at http://www.microchip.com/get/BWUC