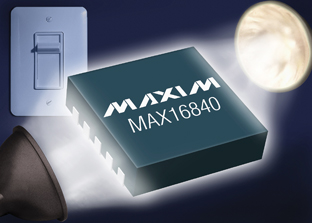 Maxim Integrated Products introduces the MAX16840, an LED driver that employs a proprietary architecture to ensure flicker-free, dimmable operation with electronic transformers and cut-angle dimmers. Maxim's patent-pending approach enables the design of retrofit LED lamps that can replace halogen MR16s without any changes to the existing electrical infrastructure. This removes an important obstacle to commercial viability, allowing end users to enjoy all the benefits of LED lighting with substantially lower deployment costs.
Designing LED retrofit lamps
To facilitate adoption, LED retrofit lamps must be compatible with electronic transformers and cut-angle dimmers. These transformers and dimmers are designed for the perfectly resistive loads of traditional halogen lamps. LED drivers, however, are very nonlinear and not purely resistive loads. As a consequence, LED lamps flicker, do not dim, and in some cases do not turn on at all when used with the existing electrical infrastructure.
The MAX16840 solves this problem by using a unique, patent-pending approach to control the input current of the lamp. By actively shaping the input current it ensures flicker-free operation with most electronic transformers and dimmers. This enables LED lamp designers to create drop-in replacements for halogen MR16s, thus eliminating the costly infrastructural upgrades required by competitive solutions.
Extending lamp lifetime and fitting the MR16 form factor
In addition, the MAX16840 can be designed in without electrolytic capacitors. This extends the lifetime of the LED lamp, since electrolytic capacitors are usually the first component that fails in the driver circuit.
Operation without electrolytic capacitors reduces the cost and size of the driver, allowing it to fit in the small MR16 form factor. An integrated switching MOSFET further extends these space savings while reducing component count and cost.
Additional details
The MAX16840 can deliver up to 20W of power. It is fully specified over the -40?C to +125?C temperature range and is available in thermally enhanced, 3mm x 3mm, 10-pin TDFN package. Prices start at $2.01 (1000-up, FOB USA). For more information, please visit: www.maxim-ic.com/Flicker-Free-LEDs