Infineon's new TLE986x/7x product series is a third-generation system-on-chip solution (SoC) that offers a wide range of functions – all in particularly compact housings. This makes Infineon one of the first semiconductor manufacturers to offer a highly-integrated embedded power series with a powerful microcontroller, flash memory, MOSFET gate driver and an extensive range of analog and mixed signal peripherals on the market.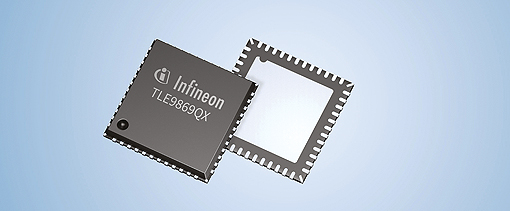 Author: Mathias Müller, Product Sales Manager Power Semiconductors and member of the new Automotive Business Unit, Rutronik Elektronische Bauelemente GmbH
With various versions, graded by the size of the internal RAM and flash memory, CPU clock speeds and communication interfaces, developers are free to choose the ideal module for each application.
Two base types with an integrated two-phase gate driver or three-phase gate driver form the core structure of the embedded power ICs. Both are based on single-chip technology and include an ARM® Cortex™ M3 processor with a clock speed of 24 MHz or 40 MHz.
The Cortex™ M3 Core opens up entirely new opportunities in the field of motor control algorithms. The 32-bit µC range addresses precisely the BLDC segment that was served by 16-bit controllers in the automotive industry in the past.
Infineon has also set new standards in the selection of the housing – the space-saving housing concept, known as the "VQFN48 package", which has only been available to the automotive sector since recently. This package enables automotive system manufacturers to develop much more compact and efficient systems that are optimized to use the available space. Whereas up to 150 different components may be used in modern circuits, the use of the new TLE986x/7x embedded power range enables this to be reduced to less than 30.
Of course, all TLE986x/7x components are AEC Q100-qualified.
Today, with the numerous intelligent and highly complex motor drive systems that vehicles host, it is more important than ever to develop refined control systems in order to keep system costs manageable, optimize systems in terms of their energy efficiency, and ultimately also improve convenience in development. Infineon's new third-generation range of products unites all of this.
The TLE986x series with gate drivers for four n-channel FETs with H-bridge topology as a power stage was specifically conceived to drive two-phase DC motor systems.
It is conceivable that it might be used in automated car sunroofs or to control door windows.
Of course, the modules of the TLE986x series can also be used for all H-bridge-based drive systems in the car.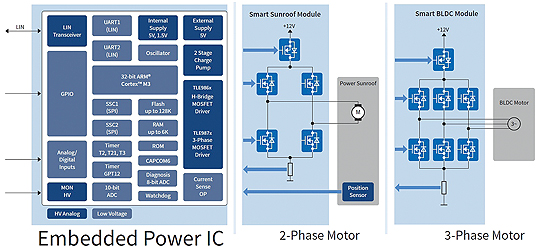 The TLE987x product group with its six n-channel FET drivers is suitable for driving three-phase (BLDC) motor applications, including fuel pumps, motor fans, blowers for air conditioning systems, water pumps, and a variety of other pumps and fans in sensorless or sensor-based PWM motor control applications.
The optional LIN transceiver of the TLE986x/7x product group is consistent with the LINstandard 2.2, and has been certified by IBEE Zwickau and the C&S Group.
The peripheral set of both modules includes a current sensor and a 10-bit ADC (analog-digital converter) that operates using the successive approximation method and is synchronized with the capture/compare unit (CAPCOM6) for PWM (pulse width modulation control) and 16-bit timers. This is especially important in time-synchronized signal generation, for example with PWM or the synchronous analog signal processing in the ADC.
For communication with the component, an integrated LIN transceiver, UARTs, SPIs and a variety of general purpose I/Os (GPIOs) are available. Both product families have a linear voltage controller integrated on the chip to supply the internal modules and a controller for external loads (e.g. sensors), as well as between 36 kB and 128 kB of scalable flash memory. A nominal voltage supply range of 5.4 to 28 V is also accommodated. The integrated charge pump enables low-voltage operation of the MODFET bridge at as low as 5.4 V with the minimal external integration of two capacitors into the circuit. This cuts the BoM (bill of material) costs significantly when compared to the frequently used bootstrap method for low-voltage operation. The bridge drivers can also be used to program the charge and discharge currents. Combined with the patented flank control for the power profile, this enables the EMC behavior to be optimized at system level for a wide variety of MOSFETs.
Both series can support up to 40 V and can therefore accommodate typical 'load dump' scenarios. At the same time, an expanded operating range of up to 3 V is enabled through keeping the microcontroller and the flash memory fully functional.
For this, Infineon offers a testing and debugging tool for the TLE986x and TLE987x embedded power IC series.
The TLE986X EVALB_JLINK or TLE987X EVALB_JLINK evaluation board provides a full testing interface for all functions, peripherals and properties of the TLE986x/7x product family module in question, and enables a motor to be started directly thanks to the MOSFETs present on the board. The design of the evaluation boards allows for the handling of loads with a maximum power consumption of 30 A. Depending on the model, the MOSFETs on the evaluation boards are either arranged in an H-bridge configuration for a DC motor or in a B6 pattern for BLDC motors. UART and LIN communication, direct access to all I/O pins, and a J-Link debugger are also available.
An extensive toolset, ranging from an editor, compiler and debugger to a code configurator and a variety of example programs, are available to level out the learning curve of application development with the TLE986x/7x module family.
Power at Rutronik
Power semiconductors and their applications have been a focus of Rutronik since back in 1980, meaning that today's team can provide many years of experience, in-depth know-how and close partnerships with the world's leading semiconductor companies ■
Rutronik
www.rutronik.com
More information at: www.rutronik-tec.com/power
Contact: Power@rutronik.com