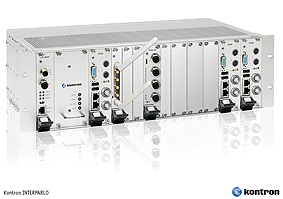 Kontron announced the Internet-on-train server INTERPARLO, a 3U CompactPCI platform in a 19-inch rack format specifically designed for railroad applications. The EN50155-compliant Internet-on-train-server with long-term availability can be configured for specific applications with Kontron's rail-compliant embedded CompactPCI modules. With this new application-ready platform, OEMs can implement custom-designed Internet-on-train and passenger infotainment applications. In addition, train maintenance and remote diagnostics applications can be developed in a more efficient manner, resulting in faster time-to-market and less hardware design work and expenditure.
Kontron's Internet-on-train server INTERPARLO gives railroad equipment and service providers an off-the-shelf standard-compliant solution for modular, rugged and long-life system designs. The Kontron INTERPARLO is available, pre-validated, pre-tested and configured in order to meet individual application needs. This includes a variety of wireless communication options, separate controllers and disks for streaming applications, a RAID Kit for CCTV applications as well as an Ethernet switch to connect to intelligent HMIs and train networks. For EN50155 compliancy, a conformal coating can also be applied to protect the system against humidity and dust.
With upgrade options and comprehensive obsolescence management available from Kontron, customers will benefit from an extended system lifecycle and a reduced Total Cost of Ownership.
The platform configuration in detail
The 19-inch base platform of the Kontron Internet-on-train server INTERPARLO consists of an 84HP 3U industrial housing, the EN50155-compliant Kontron plug-in power supply CP3-SVE-M100DC with power entry at the front, plus the 4HP Kontron CompactPCI processor board CP305, or the 8HP Kontron CompactPCI processor board CP307. The boards come with an Intel Celeron M processor with 1.06 GHz and 512 MB of RAM, or alternatively an Intel Atom with 1.6 GHz and 1 GB of RAM. This means they can achieve maximum performance while consuming minimum power. Both boards come with a CompactFlash card with a pre-installed ready-to-run Linux or Windows image. One or two additional CPU boards, as well as the Kontron storage module CP-HDD-S-KIT, can be added to the platform to configure an independent secondary CompactPCI system in the same housing. This configuration enhances the Kontron Internet-on-train server INTERPARLO for streaming applications such as real-time transmission of media data. Four vacant slots, or three in the case of the 8HP CPU board, can be used to add any project-specific hardware needed, such as carriers with third-party marketplace modules for UMTS, LTE, GPS, GPRS and WiFi.
The optional Kontron 16-port managed Gigabit Ethernet switch CP3923 routes eight ports to the backplane and offers four (CP3923-4M) or eight (CP3923-8M) rugged M12-D (Fast Ethernet) connectors at the front. It connects external IP-based peripherals such as driver display systems, multimedia displays, schedule information systems or CCTV cameras for video monitoring so that they can be accessed by all system controllers via the backplane. A RAID subsystem can be integrated in the same rack to provide extensive storage capacity, with up to four data volumes. RAID 0/1/3/5 support with powerful backup and status utilities is extra beneficial feature that has been integrated to achieve high data integrity, safety and scalability. The host controller does not need a driver; the RAID subsystem simply appears to be a SATA device.
Kontron's Internet-on-train server INTERPARLO runs both Windows and Linux operating systems and is available as of now.
Kontron representatives will be available to discuss the Internet-on-train server INTERPARLO in more detail at UITP Dubai 2011 on April 10-13, 2011 (booth 5A230).
For more information about Kontron's Internet-on-train server INTERPARLO, please visit:
http://www.kontron.com/products/systems+and+platforms/compactpci+systems+and+platforms/3u+compactpci/interparlo++internet+on+train+server.html
And to see other Kontron CompactPCI products for transportation and traffic, please visit: http://www.kontron.com/industries/transportation/compactpci+boards+and+systems/
Kontron AG
www.kontron.com