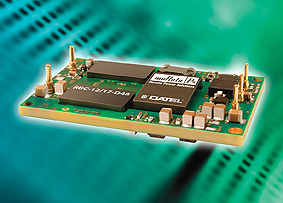 Murata Power Solutions has introduced a new cost effective Regulated Bus Converter (RBC) that delivers up to 210W output power, with a Vin range of 36-75V, ultra-high efficiency (92.5% @ full load) with Vout regulation (±1.5%) in a quarter brick open frame package.
The design of the RBC-12/17-D48 DC/DC bus converter has been optimized for use in distributed power Regulated Intermediate Bus Architectures (RIBAs) where it can be used to drive point-of-load (PoL) converters. Applications include 48V-powered datacom and telecom installations, base stations, cellular telephone repeaters and embedded systems.
The fully isolated (2250VDC) RBC-12/17-D48 is able to accept a wide range 36VDC to 75VDC (48V nominal) input. This is then converted to a 12VDC/17A output. Overall dimensions of 2.22in. (56.39mm) x 1.45in. (36.83mm) plus a low overall height of just 0.42" (10.67mm) allow the RBC to fit into applications where card cage space is restricted.
The synchronous-rectifier topology and 225kHz fixed-frequency operation of the RBC results in the excellent efficiency levels. The present trend in distributed power architectures (DPAs) require Wide Vin ranges, high efficiency and Vout regulation for the most efficient regulated IBA systems.
A comprehensive range of protection features are incorporated in this product. , including: input under-voltage (UV) lockout, output current limiting, short-circuit hiccup, over-temperature shutdown and output over-voltage. Positive or negative polarity remote on/off control is available as an option. A base plate, for mounting to cold surfaces or natural-convection heatsinks, can be specified for applications that do not have forced air cooling or where there is zero airflow.
The RBC-12/17-D48 possesses all relevant FCC, UL and IEC certifications for emissions, safety and flammability.
Murata Power Solutions
www.murata-ps.com