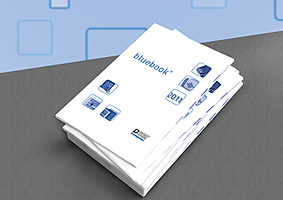 DSM Computer provides a clear description of its complete product portfolio in its updated "Bluebook®" edition 2011 that now encompasses a total of 98 pages. Newly added are, in particular, the industrial ABLE public display systems and the recently announced DIN rail PCs. The colored catalog also contains the key data for all embedded systems of the NanoServer® and BookSize family, Galaxy® switch cabinet computers, Infinity® 19-inch industrial computers and panel PCs, as well as SBCs, embedded boards and slot CPUs that DSM offers.
Because DSM develops and manufactures not only the standard products contained in the Bluebook, but also customer-specific industrial computers, it is useful to study carefully the first pages of the colored catalog. Not only the production process established at the Munich location, but also the workflow of an individual project solution optimized to the customer requirements are described. The "Listen – Advise – Solve" mission statement is represented in its implementation as a short description of previously realized, customer-specific application examples.
The many interesting innovations of the product catalog include DSM Computer's professional ABLE public displays currently available in four variants with screen diagonals ranging from 140 cm (55 inch) to 81 cm (32 inch). The robustly constructed displays are suitable for both indoor and outdoor applications. As an option, the large-sized display systems are offered with an integrated industrial PC or as monitor version with an analog/digital video interface. DSM's extremely slim 140 cm ABLE 96T5522 public display with edge LED backlight is envisaged for sophisticated digital signage applications.
DSM presents with the model H1-A its first DIN rail PC in a particularly compact housing. Thanks to its standardized installation capability, the industrial computer with a width of only 7 MW (122 mm) based on a small 70 x 70 mm Qseven™ module can be easily installed in a switchgear cabinet or standard electrical cabinet. The DIN rail PC can be deployed as gateway and communications computer, Web server or distributed control unit in the industrial environment.
Further innovations are the Infinity® 19-inch industrial computer based on the Intel® Core™ processor family and the NanoServer® embedded systems with two slots that integrate an Intel® GM45 or QM57 chipset.
The Bluebook® 2011 can be requested as printed version without charge from info@dsm-computer.de or downloaded as PDF format from the www.dsm-computer.de Web site.
DSM Computer GmbH
www.dsm-computer.com