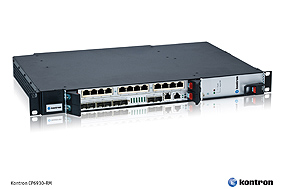 Kontron announced the introduction of its powerful 10 Gigabit Ethernet Rackmount Switch CP6930-RM with up to 32 ports. It is hardened to meet high shock and vibration, EMI and extended temperature ranges. Multiple configuration options provide SFP+, SFP, RJ45 and M12 connectors, enabling the Kontron 10 Gigabit Ethernet Rackmount Switch CP6930-RM for use in different markets, from industrial environments up to military and aerospace applications.
Based on the Kontron 10 Gigabit Ethernet CompactPCI Switch CP6930, the Kontron CP6930-RM provides a ready-to-run rack mounted unit including redundant AC or DC power options.. The non-blocking, fully managed L2/L3 10 Gigabit Ethernet Switch provides up to six ports 10GbE and up to 26 ports 1GbE. Up to six 10GbE ports are directly accessible on the front via SFP+, plus 2 1GbE ports over SFP. A second variant, the Kontron CP6930-RM-24, is pre-configured with Front Interface Modules for additional 12 1GbE ports over RJ45. On request, M12 connectors are available for extremely demanding environments. The feature set is compliant with the Kontron family of managed switches, meaning that system designers who have worked with Kontron switches before, can reuse their expertise on configuration and management, minimizing development time and TCO.
The Kontron 10 Gigabit Ethernet Rackmount Switch CP6930-RM targets applications which need robust and reliable designs for 10 Gigabit Ethernet and 1 Gigabit Ethernet connectivity, says product manager Reiner Grübmeyer. While meeting high demands on availability, temperature range, shock and vibe, our customers expect easy maintenance and a familiar environment for configuring the switches.
The Kontron 10 Gigabit Ethernet Rackmount Switch CP6930-RM provides a rich feature set of L2 and L3 functions, such as IP forwarding, L2 and L3 multicast, Quality of Service and VLANs. The feature set has been extended by Kontron to facilitate common management and configuration tasks in embedded and rugged environments, including reliable software updates in the field, replication of configurations over multiple devices, dual boot images with roll-back capabilities and write protection of internal memory.
Management access is provided over serial interface, respectively over the network. The Kontron CP6930-RM provides the same command line and web interface as other members of the Kontron portfolio of switches, which corresponds to the most popular management environments. It also supports advanced monitoring over SNMP. A comprehensive set of documents is available as User Guide and Command Line Reference Manual supports system integrators for in depth configurations of the switch.
The Kontron 10 Gigabit Ethernet Rackmount Switch CP6930-RM is ready to run out-of-the box as a 19 inch rack mounted unit including AC or DC power supply. It has been designed according to ANSI/VITA 47-2005, IEC 60068-2-6, IEC 60068-2-27, IEC 60068-2-29, EN 60950-1, UL60950-1,. All 10GbE front ports and 2 1GbE front fiber ports are directly provided on the Kontron 10 Gigabit Ethernet CompactPCI Switch CP6930. For extra ports, there are the following basic versions of the Kontron CP6930-RM: the CP6930-RM-12 version provides extra 12 GbE ports over RJ45 in a 1U unit, the CP6930-RM-24 version provides extra 24 GbE ports over RJ45 in a 2U unit. The temperature range is 0 to +55 degrees C. Other options, available on request for extended temperatures include, connectors such as M12 types, power supplies such as 24/48 VDC and redundant power supplies.
For more information about the Kontron 10 Gigabit Ethernet Rackmount Switch CP6930-RM, please go to: http://www.kontron.com/products/systems+and+platforms/network+platforms/cp6930rm.html
For more information about Kontron Switches and Routers, please go to: http://www.kontron.com/products/systems+and+platforms/network+platforms/
Kontron
www.kontron.com