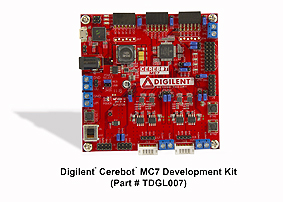 Microchip announces the availability of a development kit for embedded motor-control designs based on the Microchip dsPIC33 Digital Signal Controller (DSC). The Digilent® Cerebot™ MC7 Development Kit addresses the growing interest in embedded motor control from the academic and hobbyist markets, and is ideal for learning about microcontrollers and real-world problem solving. The kit includes a demonstration board that provides four half-bridge circuits, eight RC servo-motor connectors, the ability to use Digilent Pmod™ peripheral modules, and an integrated programming/debugging circuit that is compatible with Microchip's free MPLAB® IDE. Example applications include university classes in embedded systems and communications, final-year student projects, and a wide range of other academic and hobbyist projects, including advanced robotics.
A video demo of the kit is on YouTube at: http://www.microchip.com/get/8HF8.
The four half-bridge circuits in the Cerebot MC7 board are rated for 24V at up to 5A. These half bridges can be used to control two brushed DC motors, two bi-polar stepper motors, one brushless DC motor, and one uni-polar stepper motor. An onboard 5V, 4A switching regulator, with an input voltage of up to 24V, simplifies operation of the board, enabling it to operate from a single power supply in embedded applications such as robotics. The onboard dsPIC33 DSC features 128 KB internal Flash programme memory and 16 KB internal SRAM, as well as numerous on-chip peripherals which include an advanced 8-channel motor-control PWM unit, an enhanced CAN controller, two Serial Peripheral Interfaces (SPIs), timer/counters, serial-interface controllers, an Analogue-to-Digital Converter (ADC), and more. The Cerebot MC7 board combines two push buttons and four LEDs for user I/O, as well as connections for two I2C™ busses, one of which contains an integrated serial EEPROM device.
The Cerebot MC7 Development Kit (TDGL007) is available today, priced at $119.
For more information, visit Microchip's Web site at http://www.microchip.com/get/3N9U, or learn more about Microchip's Academic Programme at: http://www.microchip.com/get/TDFD
Microchip Technology
www.microchip.com