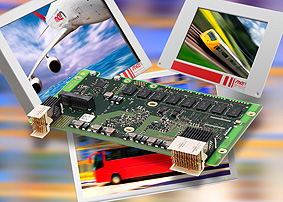 Designed for harsh environmental conditions in mobile markets, MEN's new SC24 single-board computer for display and box computer applications sets new standards in terms of flexibility. All interfaces are led to an extension card, so that custom requirements can be implemented easily and quickly. The main board, featuring an AMD Embedded G-Series processor, remains as it is.
"The modular design is qualified and tested by MEN to meet the operating temperatures of -40 to +85°C and prepared for e1 certification. Together with the high graphic performance of the AMD Embedded G-Series it offers an extremely attractive feature set, for example for fleet management systems and for digital signage applications," says Aurelius Wosylus, Director Sales EMEA of AMD's Embedded Business Unit.
High Performance for Demanding Markets
Equipped with the T52R APU (Accelerated Processing Unit) of AMD's Embedded G-Series, the SC24 single-board computer benefits from the fusion of a low-power CPU and a powerful GPU (AMD Radeon HD 6310). Integrated into a processor unit with clock frequencies up to 1.5 GHz, this solution saves space and power – without any loss in performance.
The SC24 was designed for use in multi-display applications and supports up to 2×2 DisplayPort interfaces with a maximum resolution of 2 times 2560×1600 and 2 times 1920×1200 or 4 times 1920×1200 pixels and can control a maximum of two different images on up to four screens. Moreover, the AMD GPU offers integrated 3D graphics and video acceleration.
The SC24 comes with 1 to 4 GB DDR3 SDRAM and supports 9 USB 2.0, 2 Ethernet channels, 3 PCI Express, up to 5 serial interfaces (4 UARTs also configurable as IBIS or GPS and 1 CAN), HD audio, 1 SATA and various GPIOs.
Together with an option for touch functionality using the AUX output of the DisplayPort, a 2-GB SD card and an mSATA slot, the SC24 is an excellent choice for maintenance-free and modular application in panel PCs or box PCs in all mobile markets with high demands. Designed for harsh environments, it tolerates operating temperatures of -40 to +85°C.
Based on a completely new modular concept by MEN Mikro Elektronik, the SC24 forms the controlling part of an SBC, while the actual interfaces for graphics and other I/O are led to a matching extension card via three (of four possible) AirMax VS connectors.
The first extension card, the AE51, is the first team mate for SC24 from MEN's standard portfolio. It gives access to 2 PCI Express Mini Card slots as well as 2 DisplayPorts, 2 Gigabit Ethernet ports on M12 connectors, 1 USB 2.0 and optional HD audio. 2 SA-Adapter slots can be populated as needed by UARTs, IBIS or GPS, or CAN bus. The complete solution of SC24 plus AE51 is certified according to EN 50155 and is prepared for e1 certification.
For product information please go to http://www.men.de/products/08SC24-.html and http://www.men.de/products/08AE51-.html.
MEN Mikro Elektronik
www.men.de