Intersil Corporation announced the TW9992 analog video decoder, which features an integrated MIPI-CSI2 output interface that provides compatibility with the newest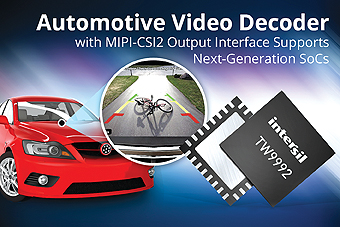 SoC processors. The decoder's MIPI-CSI2 interface simplifies design by making it easier to interface with SoCs, while also lowering the system's EMI profile. The TW9992 decoder takes both single-ended and differential composite video inputs from a vehicle's backup safety camera, and is the latest addition to Intersil's video decoder product family for automotive applications.
Designed with built-in diagnostics and superior video quality, the TW9992 addresses the biggest challenges faced by automotive video systems. For example, the decoder's Automatic Contrast Adjustment (ACA) image enhancement feature overcomes a major challenge for backup camera systems by adapting to rapidly changing lighting conditions. ACA is able to automatically boost up or reduce the brightness/contrast of an image for greater visibility and safety.
In addition, vehicle backup cameras typically employ differential twisted pair cables that require designers to use an operational amplifier (op amp) in front of the video decoder to convert the differential signal to single-ended. The TW9992 decoder eliminates the need for an external op amp by supporting direct differential CVBS inputs, thus reducing system cost and board space. The built-in short-to-battery and short-to-ground detection capability on each differential input channel further enhances video performance and automotive system reliability.
Key Features and Specifications:
• NTSC/PAL 10-bit ADC analog video decoder with 4H adaptive comb filter
• MIPI-CSI2 output interface
• Software selectable analog input control allows for combinations of single-ended or differential CVBS
• Advanced image enhancement features: automatic contrast adjustment, and programmable hue, brightness, saturation, contrast and sharpness
• Output voltage: 1.8V to 3.3V with 3.3V tolerance
• Low power consumption: 100mW typical
• Integrated short-to-battery and short-to-ground detection tests
• AEC-Q100 qualified
Intersil
www.intersil.com