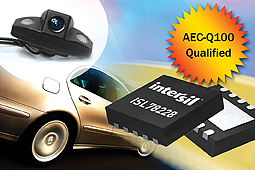 Intersil Corporation introduced a space-saving, AEC-Q100-qualified dual synchronous step-down DC/DC regulator featuring a 2.25MHz switching frequency to minimize solution size. The ISL78228 dual step-down DC/DC regulator provides two independent 800mA outputs. Its 3mm × 3mm package and 2.25MHz switching frequency enables very small power solutions for a variety of space-constrained automotive and industrial applications. A 2.75V to 5.5V input voltage range permits powering from common 3.3V or 5V automotive module supply rails. Internal current-mode compensation provides fast transient response, allowing 100% duty cycle for low dropout and eliminates the need for external compensation components.
Each channel has an independent enable pin and output voltage programming down to 0.6V. Built-in 2ms digital soft-start minimizes inrush current, while the device's low 30uA quiescent current minimizes standby power consumption.
The ISL78228 is AEC-Q100 qualified and fully TS16949 compliant, and is specified for the full -40 degrees C to 105 degrees C operating temperature range.
Intersil Corporation
www.intersil.com