Intersil Corporation announced the ISL8270M/71M family of digital power modules that dramatically reduce customer design complexity and accelerate time to market.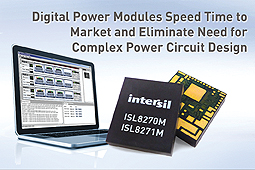 Designed for 25/33 Amp applications, the ISL8270M/71M product family is based on Intersil's fourth generation digital power controller, reflecting the company's continued leadership and expertise in advanced digital power technology.
Experts estimate that for every dollar spent on data center hardware, another $0.66 is spent on electricity to power and cool these systems. Advanced power management can have a significant impact on these costs, enabling greater power density and reduced power dissipation for improved efficiency. In addition, equipment makers have historically had to design discrete power management solutions that require expensive heat sinks and fans and take up valuable board space while adding risk to the system.
Intersil
www.intersil.com