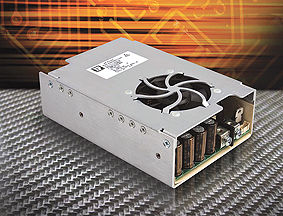 XP Power announced the FCM400 series of single output high efficiency 400 W AC-DC power supplies suitable for a wide range of industrial and medical applications. Having an enclosed low noise fan and measuring just 6 ? 4 ? 1.93 inches (152.4 ? 101.6 ? 49.0 mm), the compact units have a power density of 13.9 Watts per cubic inch and a typical efficiency rating of 85%. It is believed that the FCM400 has one of the highest power densities of any 400 W power supply with medical safety approvals.
The FCM400 series can provide a higher peak power capability, up to 600 W for 0.5 seconds. This is important for applications that might draw a higher current for a short period, and enables the customer to specify the unit in place of a larger higher rated unit, therefore saving space and cost. Medical applications that might demand a high peak power include respiratory appliances, surgical equipment and hospital beds.
Accommodating the wide input range of 80 – 275VAC, the family comprises 6 models with nominal outputs of +12, +15, +24, +28, +36, or +48VDC. An output trim allows an adjustment of +/- 10% to suit non-standard voltage requirements and compensate for any voltage drops in the end system.
XP Power
www.xppower.com