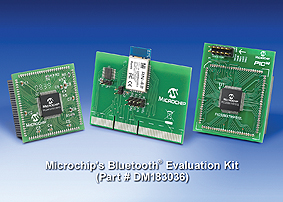 Microchip announces the Bluetooth® Evaluation Kit, which includes CandleDragon, Inc.'s dotstack™ demonstration Bluetooth Stack. The kit provides an easy, cost-effective and flexible add-on for embedded evaluation and development using many 16/32-bit PIC® microcontrollers or dsPIC® digital signal controllers (DSCs), using existing Microchip development tools.
Current Bluetooth wireless modules are costly and inflexible because they force developers to use a predetermined baseband radio and microcontroller. The new Microchip and CandleDragon Bluetooth solution enables designers to pair a wide range of radio ICs for Bluetooth connectivity with many of Microchip's 16/32-bit PIC microcontrollers or dsPIC DSCs. Additionally, CandleDragon's dotstack is Bluetooth SIG compliant and supports multiple profiles in a single microcontroller, including SPP, HFP and HID, with more profiles planned for Microchip MCUs in the near future.
CandleDragon's dotstack Bluetooth Stack can be downloaded free, for evaluation and development, via Microchip's Web site at: www.microchip.com/get/A0NT.
Once in production, the stack licensing fee starts at $4,250 for 5,000 units.
Microchip Technology
www.microchip.com