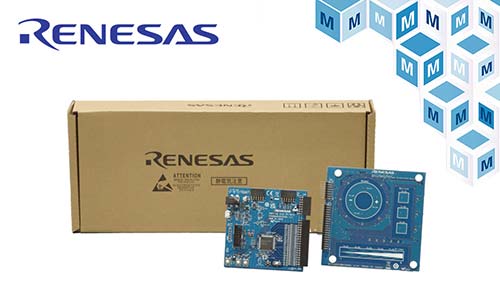 Mouser Electronics, Inc., the authorized global distributor with the newest electronic components and industrial automation products, is now stocking the Capacitive Touch Evaluation System for RX671 (RTK0EG0044S01001BJ) from Renesas Electronics. Purpose-built to demonstrate and evaluate touch solutions for the RX671 family of high-performance 32-bit microcontrollers (MCUs) from Renesas, The RTK0EG0044S01001BJ makes it easy for designers to prototype solutions for their device designs. Combining high performance, power efficiency, and small footprint in a single package, the RX671 MCUs are an ideal choice for a wide range of applications such as heating, ventilation and air conditioning (HVAC) and smart home appliances. The built-in capacitive touch sensors (CTSU) enable touch keys with aesthetic design and low maintenance.
The Renesas Electronics RTK0EG0044S01001BJ, now available at Mouser, consists of an RX671 CPU board and a self-capacitance evaluation board. The board features three built-in switches, one wheel, one slider and typical capacitive touch keys to evaluate various touch functions and support simple prototyping. Device designers can use the RTK0EG0044S01001BJ as a reference when designing boards or software. They can easily adjust the sensitivity of different touch functions using QE for Capacitive Touch software, downloadable from the Renesas website. RTK0EG0044S01001BJ features an intuitive interface, enabling even beginner designers to develop touch interfaces.
To learn more about RTK0EG0044S01001BJ, visit https://www.mouser.com/new/renesas/renesas-rtk0eg0044s01001bj-evaluation-system/.