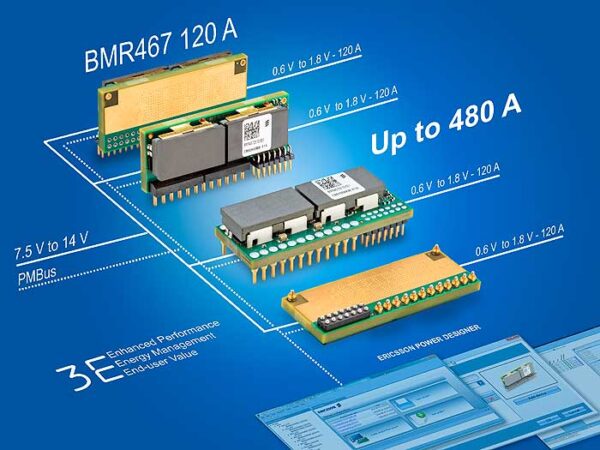 Ericsson announced the launch of a new two-phase 120A 3E* digital point-of-load (POL) DC/DC power module. The BMR467 is pin compatible with its predecessor, the BMR465, but its upgraded design delivers 30A more current. The module is also compliant with new 'teraAMP' standard developed by the AMP (Architects of Modern Power) Group™.
Multiple BMR467 products can easily be connected in parallel to provide loads of up to 480A, which makes it ideal for advanced network processors that require high performance power delivery with advanced software control for improved flexibility. These capabilities also make the BMR467 ready for future Software-Defined Power Architecture (SDPA) systems, which power system architects foresee as the way to achieving highly efficient and energy-optimized network architectures by 2020.
The BMR467 POL converter can be operated as a standalone unit delivering 120A at output voltages from 0.6V to1.8V, an output power up to 216W, as well as being part of a larger power system when processor boards require higher current. Built on a two-phase topology, four BMR467 modules can be connected in parallel together to deliver up to 480A. The BMR467 modules can become part of a multi-module and multiphase (up to eight-phase) power system that enables phase spreading, which reduces peak current and also the number of capacitors required by end systems. The module can easily be configured with support available via the downloadable Ericsson Power Designer software tool.
The BMR467 offers automatic digital compensation to provide stability, accurate line and load regulation, and excellent transient performance across a wide range of operating conditions, including switching frequency, input voltage, output voltage and output capacitance.
Measuring only 50.8 x 19.05 x 8.2mm in a SIP package, the BMR467 offers power density of 15A/cm3 (250A/in3). Other key electrical specifications include: output voltage range from 0.6V to 1.8V, adjustable via a pin-strap resistor or PMBus commands; and operation from a 7.5V to 14V input, making the BMR467 ideally suited to operation in distributed power and intermediate bus voltage architectures, which are common in advanced networking, telecommunications, server and storage applications.
In addition, the BMR467 powertrain guarantees high efficiency and reliability and is built from the latest generation of power transistor semiconductors, enabling the module to deliver exceptional power efficiency of 93.2% at 12Vin, 1.8Vout at half load. Other device specifications include an MTBF of 10.49 million hours and protection features including input-under-voltage and over-voltage shutdown, output over-current and over-voltage protection, over-temperature protection, and remote control and Power Good pins.
"The BMR467 delivers a high level of flexibility for power system architects, offering 120A as a stand-alone module or up 480A when paralleled with up to four modules," said Martin Hägerdal, President, Ericsson Power Modules. "Integrating advanced power transistor technologies to provide industry-leading power density, this new point-of-load DC/DC module offers the latest in compensation-free technology as well as delivering superb line-regulation characteristics for modern advanced power applications."
Like its previous family members, the BMR467 has been designed and manufactured by Ericsson to meet the highest standards available in the industry for DC/DC power converters. The device delivers the levels of quality and confidence expected by power system designers to develop reliable long-term and high-performance platforms.
Available now, the price of the BMR467 starts at $43.25 for OEM quantities of 1000+.
Ericsson Power Modules
www.ericsson.com/powermodules