Diamond Microwave, a specialist in high performance microwave power amplifiers, is extending its range of GaN-based solid-state power amplifiers (SSPA) to include a 2 – 6GHz model that can be operated in either pulsed or CW mode.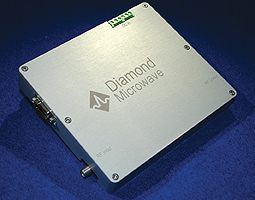 Announced at this week's International Microwave Symposium (IMS) in Tampa, the DM SC50 01 is an ultra-compact broadband amplifier that complements Diamond Microwave's existing SSPAs in X-Band and Ku-Band. All of Diamond Microwave's amplifiers are ideal for use in demanding defence, aerospace and communications applications.
The amplifier designs are flexible in layout and architecture, and are fully customisable to meet individual specifications for electrical, mechanical and environmental parameters. Amplifiers with pulsed power outputs in excess of 1kW, and with multi-octave performance are also under development.
Diamond Microwave is exhibiting on Booth 1651 at the IEEE International Microwave Symposium in Tampa.
Diamond Microwave
www.diamondmw.com