CUI Inc launched four new series of compact, open frame ac-dc power supplies, which range from 30 W to 85 W – The VOF Series. The single-output supplies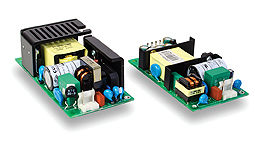 advance the company's existing offering, delivering higher efficiencies, improved no-load performances, and a boost in power versus the previous generation. The power supplies can accommodate a wide universal input voltage of 90~277 Vac at 47-63 Hz input, offering global compatibility for OEM manufacturers. It has been created to provide an industry leading combination of efficiency and competitive pricing, making the series ideally suited for use in ITE, industrial, and consumer electronics applications.
Available in 30, 50, 70, and 85 W versions, the power supplies offer output voltage options of 5, 12, 15, 18, 24, 28 and 48 Vdc depending on the series. All models include output voltage adjustability of ±5% via an onboard potentiometer.
The VOF-30, VOF-50, and VOF-70 models are rated for operation at 100% load from -20°C to 50°C, derating to 50% load at 60°C. The VOF-85 operates at 100% load from -20°C to 40°C, also derating to 50% load at 60°C.
CUI
www.cui.com