Microchip announces the expansion of its 36V digital potentiometer (digipot) portfolio with two new volatile, I2C™ devices: the MCP45HV31 and MCP45HV51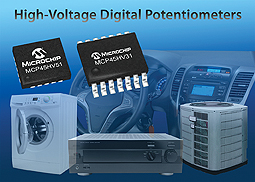 (MCP45HV31-51). These are the industry's first digipots to offer a 5 kohm resistance with a specified operating voltage of 36V. In addition, they provide 10V to 36V analogue operation and 1.8V to 5.5V digital operation, for systems requiring wide signal swings or high power-supply voltages. The MCP45HV31-51 digipots support both 7-bit and 8-bit resistor configurations, and a high terminal/wiper current, including the ability to sink/source up to 25 mA on all terminal pins for driving larger loads. These features, combined with an extended temperature range of -40°C to +125°C, make the MCP45HV31-51 well suited for a broad range of high-voltage and high-temperature applications, including those in the industrial, automotive and audio markets. The MCP45HV31's 7-bit resistor network resolution enables 127 resistors and 128 taps, while the MCP45HV51's 8-bit configuration supports 255 resistors and 256 taps. Additionally, both digipots provide RAB resistance options of 5, 10, 50 and 100 kohms. Both devices also feature a 1µA typical serial-interface inactive current, and a 2MHz typical bandwidth operation (-3dB) at the 5 kohm resistance level.
Microchip's 20-Pin TSSOP and SSOP Evaluation Board (TSSOP20EV) allows system designers to quickly evaluate the operation of the new MCP45HV31-51 digipots, in the 14-pin TSSOP package option.
Microchip Technology
www.microchip.com/get/FAHU