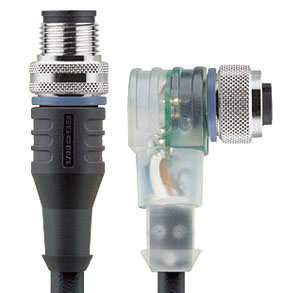 After the successful market launch of the Automation Line in January 2010, ESCHA is supplementing the available product line with two further versions. As of now, the round connectors are also available with LEDs as well as a reliable and particularly safe 360? shielding.
The ESCHA Automation Line is a connector line which – equipped with the new S370 cable – exactly meets the requirements of the machine building industry. This cable quality fulfils all common requirements in addition to different cable types previously in use. The standardised products are the right choice when it comes to reducing stocking costs. These are:
– drag-chain adapted
– halogen-, silicon-, and PVC-free
– UL listed
– weld-field immune
– chemicals- and oil resistant
– microbes- and hydrolysis resistant
– flame immune
The already existing product line of M8x1 and M12x1 round connectors in several housings and polarities will now be extended by two new options.
From now on, LED-versions with angled housing are available. These can either be equipped with power-on- and switching condition-display or exclusively with a switching condition-display. As it is the case with the existing products, the 3-, 4-, or 5-pole LED-variants are also available dust- and waterproof according to IP67.
ESCHA has integrated its own two-shell shielding-concept into the new shielded versions of the Automation Line. Based on a housing crimp-connection, an uninterrupted 360? shielding of the M8x1 and M12x1 round connectors is guaranteed even at high mechanical loads and vibrations. The final two-component over moulding will also provide for the IP67 and IP69K protection.
ESCHA

www.escha.de