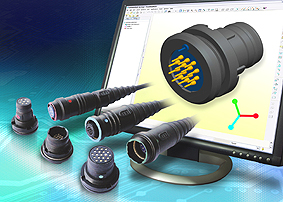 Leading global connector manufacturer and supplier ITT Interconnect Solutions has announced that its innovative new Nemesis connectors are now available as models on its 3D dynamic modelling website which went live at the end of 2010. This online resource enables design engineers to utilise a single interface to search for ITT ITC's industrial, commercial, Mil-Spec and Hi-Rel interconnects, select from various output model formats and directly request the generation of a 3D model. Users can choose from a range of industry-standard CAD formats and receive the model as a downloadable zip file to import into their own CAD system for integrating into prototype system designs. This greatly increases flexibility and enables a number of different prototype designs be tried out to achieve an optimum solution more quickly and easily.
The latest Nemesis range of lightweight, small form-factor mini-circular connectors are now available on the 3D web-modelling system. Providing optimum performance in harsh environments and fully-sealed to IP67 or IP68, Nemesis connectors suit applications where weight and size are critical. These include medical equipment, marine applications and handheld devices.
The Nemesis range includes rugged stainless steel "Super Clean" connectors with a patented draw back barrel design for cleaning and reconnection in seconds. Features include ITT ICS's patented breakaway Pogo Pin contact technology guaranteeing over 10,000 mating cycles and assuring easy connector mating and unmating whilst retaining full 360 degree EMI shielding.
The Nemesis pogo pad receptacle design both eliminates the necessity for dust-caps and removes harsh environment "fouling", often a problem with non-pad receptacles. Further Nemesis design innovations include "blind mating" for reliable and fast connection without the need for visual or mechanical keying.
ITT ICS's 3D web modelling service is available to registered users of the ITT Cannon website at www.ittcannon.com
Registration is free and only takes a few minutes.
ITT Interconnect Solutions

www.ittcannon.com