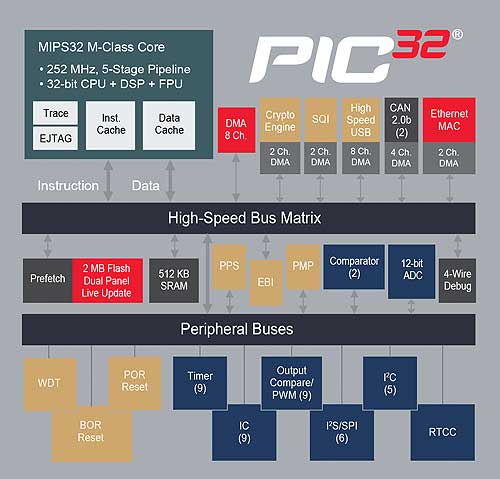 Microchip announces an extension to its 32-bit PIC32MZ EF microcontroller (MCU) family with its first automotive-grade PIC32 MCUs and a higher-speed variant operating over the industrial temperature range.
The PIC32MZ EF family features high core performance up to 250MHz; an integrated Floating-Point Unit (FPU); a wide selection of peripherals and excellent connectivity options including Controller Area Network (CAN). The extended-temperature portfolio is ideal for several critical automotive and industrial applications that require reliable performance and robustness at higher temperatures.
The portfolio includes Microchip's first PIC32 MCU to meet Automotive Electronics Council's AEC-Q100 Grade 1 specification for operation over a temperature range from -40 to 125°C. In addition, a higher-speed, 250 MHz/795 CoreMark variant operates over the extended temperature range of -40 to 85°C. The high-speed variant is ideal for applications such as high-resolution audio that require slightly higher core performance to provide faster audio processing and streaming.
The PIC32MZ EF family is supported by Microchip's MPLAB® Harmony Integrated Software Framework; MPLAB X Integrated Development Environment (IDE); MPLAB XC32 Compiler for PIC32; MPLAB ICD 3 In-Circuit Debugger; and MPLAB Real ICE™ In-Circuit Emulation System.
Several additional tools are available including:
PIC32MZ Embedded Connectivity with Floating-Point Unit (EF) Starter Kit (DM320007): Complete, turn-key kit priced at $119.00
PIC32MZ EF Starter Kit with Crypto Engine (DM320007-C):
Complete, turn-key kit price at $119.00
PIC32MZ2048EF PIM (MA320018), Explorer 16 Plug In Module priced at $25.00
PIC32MZ2048EF 144 PIM (MA320019), PIM for Bluetooth Audio Development Kit at $25.00
Curiosity PIC32MZ EF Development Board (DM320104) at $47.99
Devices in the PIC32MZ EF family are available today in volume production in a variety of package options including TQFP, QFN, VTLA, and LQFP.
Key Facts:
Microchip's first PIC32 MCU to meet Automotive Electronics Council's AEC-Q100 Grade 1 specification for -40 to 125°C operation
Higher-speed, 250 MHz variant  operates over the industrial temperature range of -40 to 85°C
Reliable performance and robustness at higher temperatures for automotive and industrial applications
Wide range of development tools includes turn-key Starter Kits
For more information, visit Microchip's Web site at www.microchip.com/PIC32MZEF_Main1946
Microchip Technology
www.microchip.com