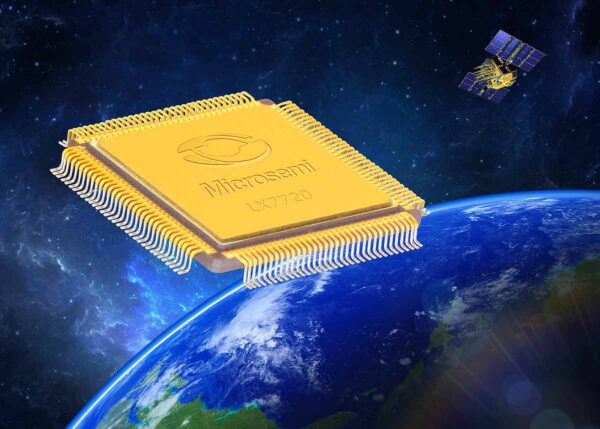 Microsemi Corporation announced it is sampling the LX7720 radiation-tolerant motor controller, the newest member of its Space System Manager (SSM) product family. As the industry's first highly integrated radiation-tolerant motor control integrated circuit (IC), the LX7720 significantly reduces weight and board space relative to conventional discrete motor control circuits, offering a unique solution for satellite manufacturers sensitive to area and weight challenges.
Microsemi's SSM product family of special purpose mixed signal devices leverages the company's more than 50 years of space heritage and provides its customers with innovative space system solutions solving application-specific challenges. As the second member of the SSM family, joining the previously announced LX7730 radiation-tolerant telemetry controller IC, the new LX7720 works with a field programmable gate array (FPGA) and complements Microsemi's other components specifically designed for the demanding space market.
"As the reduction of weight and board space on satellites continues to challenge the aerospace market, we are pleased to reinforce our commitment to developing innovative solutions with this highly reliable radiation-tolerant motor controller," said Dorian Johnson, product line manager for Microsemi's analog mixed signal space products. "Our ever-growing space product portfolio continues to strengthen our leadership position and customer relationships in this market as we maximize the amount of Microsemi content on these sophisticated satellites."
The LX7720 has already been adopted by customers to enable various motor control applications in space robotics and human-rated space programs. Additional target applications for the device include motor driver servo control, linear actuator servo control and driving stepper, brushless direct current (BLDC), and permanent-magnet synchronous (PMSM) motors. These motors can be found on satellite busses (solar panel deployment and driving reaction wheels), on spacecraft payload instruments (multi-axis pointing mechanisms for antennas and laser terminals; precise motion control of lenses, filters, and mirrors), and in robotics applications (pressure-sensitive motion control).
According to Euroconsult's 2015 report titled, "Satellites to Be Built & Launched by 2024," 60 percent more satellites will be launched by 2024 versus the past decade. This increase is driven primarily by civilian government agencies as established space countries replace and expand their in-orbit satellite systems and more countries acquire their first operational satellite systems.
Key features of the LX7720 include:
Four half-bridge N-channel MOSFET drivers
Four floating differential current sensors
Pulse modulated resolver transformer driver
Three differential resolver sense inputs
Six bi-level logic inputs
Fault detection
Radiation-tolerant: 100 krad total ionization dose (TID), 50 krad enhanced low dose radiation sensitivity (ELDRS) and single event immune
Power drivers via external field-effect transistors (FETs)
Loop control electronics for voltage or current control
Position read-back (resolver, potentiometer, limit switches, etc.)
Highest integration solution
Development board available to work with company's RTG4™ FPGA Development Kit
Product Availability
Microsemi's LX7720 radiation-tolerant motor controller is available for sampling now. For more information, visit http://www.microsemi.com/product-directory/space-system-managers/3708-position-motor-controller-ic or contact sales.support@microsemi.com.
For more information about Microsemi's space products, visit http://www.microsemi.com/applications/space.
Microsemi
www.microsemi.com