EP&Dee is offering the chance to win a Microchip dsPIC33EV 5V CAN-LIN Starter Kit!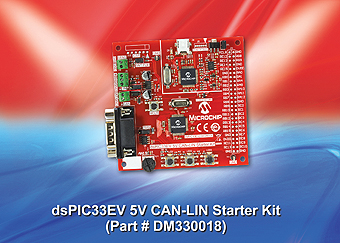 The dsPIC33EV 5V CAN-LIN Starter Kit (DM330018) features the dsPIC33EV256GM106 Digital Signal Controller (DSC) for automotive and motor control applications.
The Starter Kit contains serial data ports for CAN, LIN and SENT, a self-contained USB programming/debug interface, and an expansion footprint for flexibility in application hardware development.
This board allows users to explore three popular automotive and industrial serial data formats (CAN, LIN and SENT). The PICkit On-Board (PKOB) USB programmer and debugger allows simple programming without the need for an additional hardware interface.
With 5V operation up to 150°C Microchip's dsPIC33 "EV" Digital Signal Controllers (DSCs) provide harsh applications with robust performance as well as integrating peripherals for safety-critical functions, motor control, CAN, SENT and touch sensing.
The dsPIC33 "EV" family is the first to offer Error Correcting Code (ECC) Flash for increased reliability and safety. For safety-critical applications, Cyclic Redundancy Check (CRC), Deadman Timer (DMT), Windowed Watchdog Timer (WWDT) peripherals as well as a backup system oscillator and certified Class B software.
For the chance to win a dsPIC33EV 5V CAN-LIN, visit:
www.microchip-comps.com/epdee-dspic33ev-can-lin