Imagination Technologies (IMG.L) and Chukong Technologies, creator and maintainer of the widely adopted open source game engine Cocos2d-x, announce that the latest version of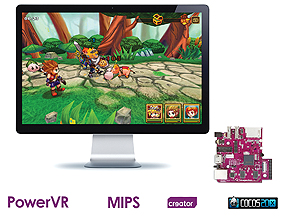 Cocos2d-x has been fully optimized to run on devices with Imagination's MIPS CPUs or PowerVR GPUs.
More than 400,000 developers worldwide, including developers of seven out of the ten top grossing games in China, rely on Cocos2d-x to build their mobile games. The exciting collaboration between Imagination and Chukong means developers can easily target games built with Cocos2d-x to MIPS-based devices running Android, including Imagination's Creator CI20 microcomputer.
The Creator CI20 microcomputer combines two of Imagination's key technologies – MIPS CPUs and PowerVR GPUs – to deliver a compelling gaming experience for entry-level mobile and embedded devices.
By also optimizing Cocos2d-x for the PowerVR graphics architecture, Chukong is ensuring a smooth user experience for 2D and 3D graphics for all games using the game engine. Additionally, Chukong is leveraging the latest version of the PowerVR SDK and tools from Imagination to enable rapid graphics application development, from asset exporting and optimization to prototyping and performance analysis.
Says Bryce Johnstone, senior manager for third party alliances at Imagination: "Imagination's ecosystem reaches more than 60,000 developers, from established game studios to indie programmers. We are very excited about the work that Chukong Technologies has been doing with Cocos2d-x on the CI20. Our collaboration has resulted in a fully optimized game engine that will enable developers to create exciting games for the many devices in the market using PowerVR GPUs, and also port some of the world's most popular titles to the MIPS architecture. This is a superb example of how companies benefit from working with PowerVR and MIPS."
More information about Imagination's developer community can be found at http://community.imgtec.com
For an overview of the new Creator CI20 microcomputer, visit http://www.imgtec.com/creator
Chukong Technologies
www.chukong-inc.com
Imagination Technologies
www.imgtec.com