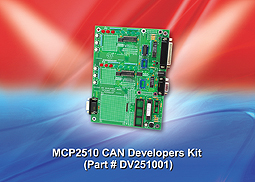 Microchip is offering readers of EP&Dee the chance to win one of their CAN Developer's Kits which is ideally suited for system developers in automotive, industrial control, instrumentation and automation applications.
To Speed up software development and to enable introduction of CAN to those who are unfamiliar with the protocol, Microchip offers a unique development tool that is a combination of a software development tool and a CAN message / communication tool called the MCP2510/2515 CAN Devel­oper's Kit. This kit helps to simplify applications that require interfacing with a CAN bus.
For your chance to win a Microchip CAN Developer's Kit, please visit:
http://www.microchip-comps.com/epdee-candevkit
and enter your details in the entry form.