TTI, Inc. is stocking TE Connectivity's (TE's) mini I/O industrial connector system. This compact, latching, wire-to-board I/O interface measures one-quarter the size of a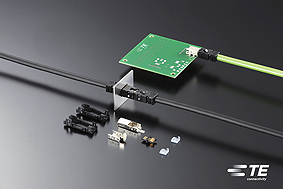 conventional RJ45 plug and features two points of contact for increased reliability in high vibration industrial applications.
Mini I/O connectors are available in two coding options to help prevent mismating. Each connector contains eight individual contacts that accommodate I/O signals or industrial Ethernet, and are available in angled and vertical configurations, and surface-mount and through-hole options. The unique latching system protects the plug from pull-out in high vibration environments. The latest addition to the mini I/O product family is a field installable version with an innovative and time-saving wire termination and an easy to use hand tool that allows for field assembly in virtually any environment.
TTI, Inc.
www.ttieurope.com