Mouser Electronics, Inc. is now stocking and shipping the Atmel SAMA5D3 Xplained Evaluation Kit, a low cost prototyping board for the Atmel SAMA5D3 family of processors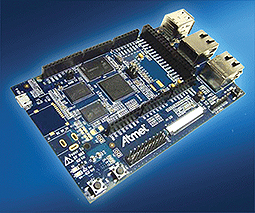 based on the ARM Cortex A5 processor core. The board supports an external LCD interface, Gigabit Ethernet, and Arduino R3 expansion headers.
The Atmel SAMA5D3 Xplained Evaluation Kit available from Mouser Electronics is Atmel's latest in a series of SAMA5D3 evaluation boards. This SAMA5D3 Xplained kit allows developers to easily evaluate the high level features of the SAMA5D3 processor. The board comes with 256Mbytes DDR2 DRAM, 256Mbytes NAND Flash, and has an SD card connector and a microSD™ slot. An LCD interface connector is supported by an LCD TFT controller with touchscreen capabilities. Two Ethernet connectors are available, one for 10/100 and the other for Gigabit Ethernet. There are two USB host ports as well as one micro AB USB connector. The board also has a set of Arduino R3 compatible expansion connectors that can connect to compatible Arduino™ shields. The board is powered by USB or can use an external 5VDC power supply.
Mouser Electronics
www.mouser.com