Distributor Rutronik offers Dynastream's first dual protocol ANT® SoC (System on Chip) Module N548. Based on Nordic Semiconductor's nRF51422 SoC, this 2.4GHz solution supports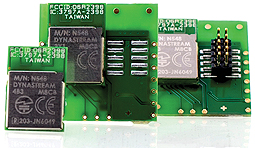 both ANT® and Bluetooth® low energy, and enables both protocols to run concurrently. The very small N548 is sized for wearable, home and industrial trends in a 14.0mm × 9.8mm × 2.00mm LGA (Land Grid Array) package. The N548 highlights the distinct advantages of the established ANT protocol while enabling a bridge connection between available ANT+ devices and the iOS platform. Designed for manufacturing ease, this turnkey hardware solution is fully integrated with PCB antenna, 32kHz crystal time base, DC/DC converter, and 24 GPIOs with six analog inputs. The module is pre-certified with FCC/IC/CE/JP/AU/NZ designations and Bluetooth qualification. Its reduced cost and overhead make it the ideal platform for broad usage, simple sensors as well as cost-focused applications.
The N548 is available in three different packages: N548M8CB 14.0mm × 9.8mm × 2.00mm LGA, N548M5CB with a Molex connector and N548M4CB 20.0mm × 20.00mm package which is pin compatible with legacy modules from Dynastream. The N548 Starter Kit, also available at distributor Rutronik, includes the N548M5CB and is ideal for out-of-the box evaluation and development.
Rutronik
www.rutronik.com/880b101e.l