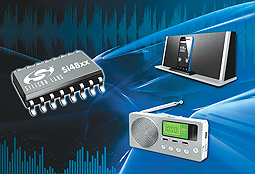 Silicon Labs introduced the latest generation of the company's widely used analog-tuned, analog/digital-display (ATxD) multiband radio IC family. The new Si4825/27/36 AM/FM/SW receivers provide superior radio band coverage and a 16-pin SOIC package option that eases the design and manufacturing of ATxD radio products. The new Si48xx radio ICs provide an "all-in-one" single-chip receiver solution for tabletop and portable radios, stereos, mini/micro systems, boomboxes, clock radios, iPod docking stations, toy radios and many other consumer products containing wheel-tuned radios.
The wheel-tuned or "analog-tuned" multiband radio product market exceeds 115 million units per year, according to Silicon Labs estimates. More than 90 percent of all ATxD radios including products for the global export market are manufactured in China. A pioneer in RF-in-CMOS multiband receivers for the wheel-tuned radio market, Silicon Labs has now delivered three generations of single-chip receiver solutions that reduce the cost and complexity and simplify the manufacturing of radio products used by many millions of consumers worldwide.
Silicon Labs' new Si4825/27/36 receivers offer the same exceptional RF performance, unmatched integration in CMOS, bill of materials (BOM) and labor cost reduction, and ease of design and manufacturing as previous generations of Si48xx radio ICs. In addition, the new receivers use a single band to cover a wider frequency range for FM and SW bands, and they also support TV audio carrier reception in the China market. Additionally, the devices provide advanced audio conditioning for all signal environments, removing pops, clicks and loud static in challenging signal conditions.
The Si4825 mono-output, consumer-grade product and the Si4836 stereo-output, commercial-grade product are designed for the ATAD radio market. The Si4827 mono-output, consumer-grade product targets the ATDD radio market. Each receiver supports worldwide broadcast frequencies from 64-109 MHz in FM, 504-1750 kHz in AM and 2.3-28.5 MHz in shortwave (SW), enabling a single radio design based on the receivers to support all worldwide markets.
Silicon Labs
www.silabs.com