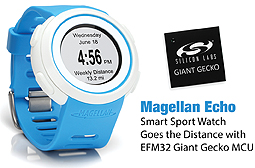 Silicon Labs announced that Magellan, a leader of innovative GPS devices for vehicles, fitness, outdoor and mobile navigation, has chosen Silicon Labs' EFM32™ Giant Gecko microcontroller (MCU) as the energy-friendly processing platform for the Magellan Echo smart sports watch. Named as a CES Innovations 2014 Design and Engineering Award Honoree, the Echo is the first "open" smart sports watch platform that enables application developers to augment their apps to be viewed on and controlled from the wrist.
In the emerging market of wearables and appcessories, the award-winning Magellan Echo stands out for its innovative design. Its display and watch face can be customized to reflect various sports and fitness activities from running, biking, hiking to golfing while offering additional features such as the ability to remotely control music and sports apps from a smartphone. Unlike other smartwatches, the Echo leverages the smartphone's integrated GPS and communicates directly with Bluetooth Smart-enabled iPhone and Android smartphones. This streamlined design results in a lightweight sports watch with exceptionally long battery life that is far superior to competing devices.
The 32-bit Giant Gecko MCU, based on the ARM® Cortex®-M3 core, also plays a key role in the sport watch's energy efficiency, enabling the Echo to operate for up to 11 months on a single CR2032 coin-cell battery. The Magellan Echo design team achieved their ultra-low energy goals by optimizing the Giant Gecko MCU's five different energy modes and leveraging the MCU's low-energy sensor interface (LESENSE) and peripheral reflex system (PRS). These features enable energy-friendly and autonomous peripherals to handle timing and sensor control without involving the CPU.
Silicon Labs
www.silabs.com