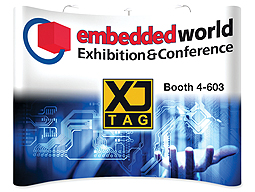 Visitors to stand 4-603 at this year's Embedded World exhibition in Nuremberg, Germany, can win a Raspberry Pi by guessing the code to the XJTAG safe.
XJTAG returns to Embedded World this year with its popular 'Crack the Safe' competition. Visitors can arrange a free trial and demonstration of the XJTAG boundary scan system, as well as finding out why world leading companies select XJTAG.
In an age where chip and board geometries continue to shrink, working at higher speeds and greater densities, traditional test technology often falls short. XJTAG boundary scan provides a cost-effective, non-intrusive test solution that pushes beyond these limitations to improve test coverage. The popular Raspberry Pi exemplifies many of the issues faced in electronics testing today. Its BGA packaging is akin to that used in an increasing number of modern boards that make most pins unreachable through physical access. But the industry is far from blind to this problem, with JTAG Boundary Scan technology granting the engineer enhanced digital access to these difficult to reach pins. XJTAG uses a simple 4-5 wire hardware interface to control and monitor JTAG enabled devices. Combined with XJTAG's user friendly software, every feature is designed to make testing easier and faster. The revolutionary system saves you time and money during board development by allowing early creation of reconfigurable test scripts that can be used throughout the whole of production.
XJTAG
www.xjtag.com