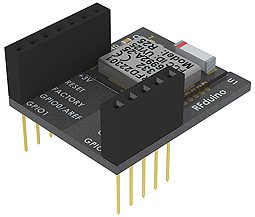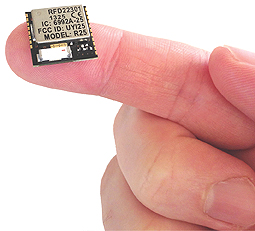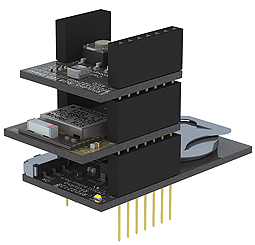 At embedded world, Rutronik (Hall 1, booth 310 and 249), presents RFduino from RFdigital. This smallest stand-alone computer with integrated Bluetooth Low Energy, AD-converter and GPIO's is based on the nRF51822 Bluetooth system-chip from Nordic Semiconcductor. RFduino can be equipped with various shields and is available at distributor Rutronik as of now.
RFduino is the first Arduino-compatible board that can communicate wirelessly with Bluetooth v4.0 compatible smartphones and tablets. The board includes a 2,4GHz Bluetooth
module, the RFD22301, which could also be used for big production series after the prototyping with RFduino. The board contains a 2,4GHz transceiver, which can change over Bluetooth Low Energy, Gazell and ShockBurst, as well as a 256kB Flash, a 32-bit Cortex-MO core and I/O periphery. Rutronik exclusively offers a series of differently extensive RFduino Development Kits in various price categories. As operating system and radio stuck, a model of Arduino can be flashed or software from Nordic Semiconductor can be used. Thanks to a broad range of shields (plug-in function expansion) a prototype can quickly be put together, which can be transformed with little effort for large scale production.
Rutronik www.rutronik.com/2610138a.l