Maxim Integrated's MAX66242 DeepCover® Secure Authenticator authenticates, configures, and collects data from any embedded system through its NFC/RFID wireless data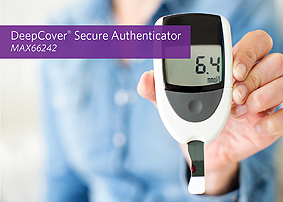 communication and simple I2C interfaces.
Designers can now perform secure wireless data communication on their embedded systems without needing the host microcontroller, but by simply using a single MAX66242 DeepCover® Secure Authenticator from Maxim Integrated Products, Inc.
The MAX66242 secure authenticator is an advanced tag that combines a wireless NFC/RFID interface with an I²C interface. Designers can now collect vital system data from portable devices even when the main energy source on the master device is not functional. The I²C and wireless RFID/NFC interfaces make it highly flexible and scalable for a wide range of applications. The MAX66242 is especially useful for applications that require additional external functionality, but do not have the space to place a connector. Ideal applications include secure, wireless transfer of medical data or asset tracking.
The MAX66242 enables wireless, contactless data collection between a host and slave device. The integrated, proven SHA-256 cryptographic engine provides symmetric challenge-and-response authentication based on a secret key for data downloads. Needing no separate controller to write data, the MAX66242's I²C interface port can operate as a master port or a slave port for secure data exchanges. The MAX66242 comes with multiple memory programmable options which let a user configure a secure master/slave system and set usage limits using the EEPROM emulation mode to create nonresettable counters.
Maxim Integrated
www.maximintegrated.com