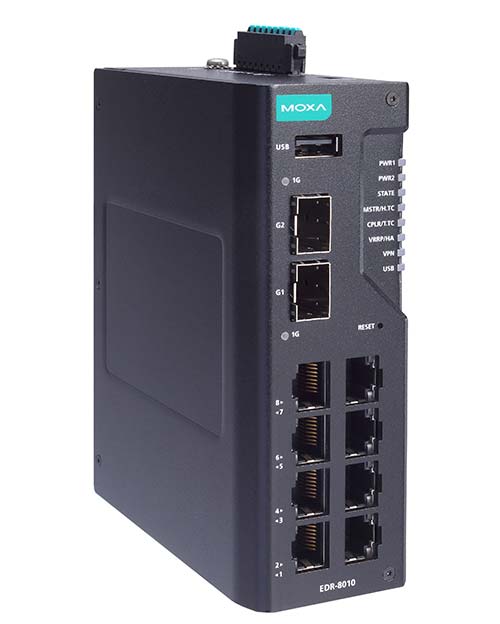 Moxa Inc., a leader in industrial communication and networking, launches the EDR-8010 series, a new generation of secure industrial routers. They are specifically designed for Ethernet-based security applications in critical remote control and monitoring networks.
The EDR-8010 combines the functions of an industrial firewall with eight FE and two Gigabit ports, NAT, VPN and managed Layer 2 switch functions. It protects critical assets in industrial environments by providing various security zones while connecting multiple PLC/SCADA systems in factory automation. All security features are based on the IEC 62443/NERC CIP industrial cybersecurity standards.
The performance of the EDR-8010 is also impressive, with a secure boot in less than 30 seconds and a data throughput of 50,000 pps, five times faster than the previous EDR-810 series. Industry-leading Deep Packet Inspection (DPI) protects applications from unwanted intrusions at the protocol level. In addition, the EDR-8010 can be equipped with an intrusion prevention system to detect and prevent ransomware and other threats. The VPN provides 50 secure tunnels at 200 Mbps based on the IPSec protocol.
"Moxa is committed to securing industrial operations through an integrated approach, blending networking and industrial cybersecurity based on IEC 62443-4-2. This results in a multi-layered defense approach that combines the robust perimeter security of the EDR-8010 series with the advanced threat analysis of its industrial-grade Intrusion Prevention/Detection System (IPS/IDS), powered by Moxa's customized deep packet inspection platform for OT. By incorporating IPS/IDS, the EDR-8010 series becomes an industrial next-generation firewall, bolstering its ability to detect and prevent cybersecurity threats. This added functionality offers an extra layer of protection for safeguarding critical infrastructure against potential attacks," says Muhammad Fawwad, Product Marketing Engineer at Moxa Europe.
Moxa's proprietary Turbo Ring redundancy technology reduces costsMoxa's proprietary Turbo Ring redundancy technology makes it easier than ever to ensure the availability of industrial networks. With up to 250 switches, the network can be restored in less than 50 ms in the event of an interruption. The EDR-8010 series can be seamlessly integrated into a Turbo Ring as a router/firewall, replacing a corresponding switch.
Designed for industrial use
The EDR-8010 is ideal for use in any industrial environment, thanks to its robust hardware with EMC-compliant design and a wide temperature range from -40 to +75 °C, as well as numerous industrial certifications (IEC 61850-3, EN50121-4, NEMA TS2, DNV-GL, ATEX; from Q1/24 also IEEE1613 and C1D2).
EDR-8010 and other Moxa innovations for secure industrial networks at SPS
At SPS 2023 (Nov. 14-16, 2023 in Nuremberg, Germany), Moxa will showcase the EDR-8010 in Hall 5, Stand 208. In addition, a selected portfolio of managed switches, next-generation firewalls, gateways and industrial computers for secure and future-proof machines, plants and OT networks will be demonstrated in real-life use cases.
Every day at 9:30 a.m. there will be interesting short presentations of 15-20 minutes at the Moxa booth, which will also be broadcast live on LinkedIn:
Tuesday 14/11, 9:30 a.m.: Tour of the Moxa booth showcasing the portfolio of latest devices for secure transmission and seamless IT/OT convergence, compact products designed specifically for small control cabinets, and devices for serial connectivity.
Wednesday 15/11, 9:30 a.m.: The most critical use cases for industrial automation networks, from large IEC-62443-based OT networks, to remote connectivity for faster and easier OT asset management, to virtual PLC integration or data transfer from the shop floor for the digital twin.
Thursday 16/11, 9:30 a.m.: TSN & 5G – Introducing the new TSN switch TSN-G5008 for more distributed, intelligent and scalable Ethernet-based communication for motion control, as well as the latest industrial 5G solutions for private 5G networks.