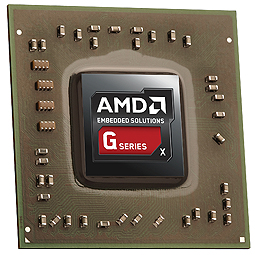 Rutronik presents the new Fujitsu D3313-S, a Mini-ITX mainboard for 24/7 continuous operation in an extended temperature range of 0° to 60°C. It is based on systems on a chip (SOC) from the new AMD Embedded G-Series SOC, which is developed especially for industrial applications. The new mainboard will be available at distributor Rutronik from November 2013.
The use of SOCs enables increased computing performance at a low energy consumption level. The new Fujitsu D3313-S will be available in three versions, each with a different SOC by AMD: D3313-S1 is based on AMD Embedded GX-210HA SOC with AMD Radeon(TM) HD8210E Graphics (Dualcore, 1.0GHz), D3313-S2 is based on AMD Embedded GX-217GA SOC with AMD Radeon(TM) HD 8280E Graphics (Dualcore, 1.65GHz), and D3313-S3 is based on AMD Embedded GX-420CA SOC with AMD Radeon(TM) HD 8400E Graphics (Quadcore, 2.00GHz). Each version is equipped with two DDR3-1866/1600-SDRAM SO-DIMM sockets for up to 16GB single-channel memory.
All three models support DVI-I, Display Port, and 24-bit dual-channel LVDS. They all come with an m-SATA port and a PCIe Minicard socket supporting USB. The layout of the external I/O ports is identical with the one of the preceding generation D3003-S, which enables an easy change of platform technologies while retaining the same housing. The board from Fujitsu's Industrial Series is optimized for a wide range of industrial and semi-industrial applications and has an extended lifecycle with an availability of five years.
Rutronik Elektronische Bauelemente
www.rutronik.com