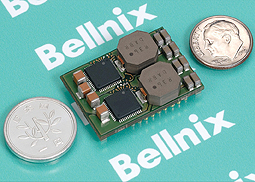 Low-Profile, 60 A PMBus™ Compliant Module Support Parallel Operation and Incorporates Powervation's Auto-Control® for Higher Performance and Greater Ease of Use Powervation Ltd., the leader in Intelligent Digital Power™ IC solutions, announced that its PV3012 digital controller has been adopted by leading power supply manufacturer, Bellnix Co., Ltd. for use in a new low-profile, 60 A DC/DC module.
The BDP12-0.6S60R0 digital power module is a PMBus compliant, non-isolated step-down converter that is designed for today's Communications and Computing applications, and addresses the needs for small form-factor designs while providing high reliability and high performance.
Bellnix's 60 A BDP is the first in a series of Bellnix Digital Power modules based on Powervation's digital controller architecture that provides a total power solution in a low-profile, 10 mm, form-factor. The 60 A BDP uses Powervation's PV3012 digital two-phase controller, and parallel BDP module operation is supported via Powervation's DSS® current sharing bus. This PMBus compliant module features precision measurement & telemetry reporting, a full-line of programmable power supply protection features, power good, and optional tracking function, all in a compact 32.8 mm × 23.0 mm ROHS compliant SMD package design.
Powervation's Auto-Control is the industry's leading intelligent auto-tuning technology. The patented adaptive compensation technology optimizes dynamic performance and system stability in real-time without requiring any noise injection or the drawbacks of periodic techniques. This is a key benefit for modules and other designs that drive unknown or variable output loads, and addresses the challenges of load parameter drift that occurs over temperature and time.
The BDP12-0.6S60R0 power module, GUI, and evaluation board are available now from Bellnix; to download the data sheet, visit www.bellnix.com/news/307.html
The PV3012 and other digital control ICs are available from Powervation.
Powervation
www.powervation.com