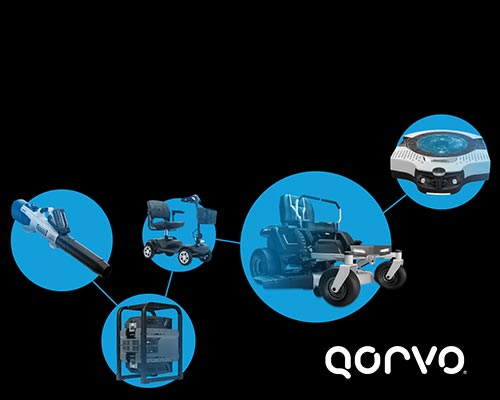 Qorvo® , a leading global provider of connectivity and power solutions, today announced it has expanded its power management portfolio to include the PAC22140 and PAC25140 Power Application Controller® (PAC) devices. The two PACs are the industry's first single-chip solutions to offer support for battery packs with up to 20 cells in series (20s). These products leverage an intelligent motor control foundation to enable intelligent battery management solutions (BMS) for a wide range of industrial, e-mobility and battery backup applications.
The highly integrated PAC22140 and PAC25140 save designers more than 50% of PCB space and lower total BOM cost by 30%, while reducing time to market leveraging Qorvo's hardware and firmware ecosystem. The devices integrate all essential analog and power management peripherals with a 32-bit Arm® Cortex® M0 or M4F microcontroller and include cell balancing, monitoring and protection for 10s-20s battery packs.
The PAC22140 and PAC25140 provide access to multiple analog and digital peripherals required to manage today's high-cell-count battery packs. These include a programmable-gain differential amplifier, multiple 16-bit Sigma-Delta ADCs for current and voltage sensing, and a 10-bit SAR ADC. A single-supply 145V-buck DC/DC controller generates a 5V system rail to power the device, while an integrated charge pump supports the charge and discharge FET drivers.
"The need for higher cell count solutions is increasing as end users demand longer battery life, faster charging time and lighter overall weight from new battery-powered applications," said Brian McCarthy, senior manager for Qorvo's PAC product line. "The highly integrated PAC22140 and PAC25140 provide designers complete solutions for these high-power, high-performance systems."
Feature
PAC22140
PAC25140
Microcontroller
50-MHz Arm Cortex M0 with 10-bit SAR ADC
150-MHz Arm Cortex M4F with 12-bit SAR ADC
MCU memory
32kB – Flash
8kB – SRAM
128kB – Flash
32kB – SRAM
Communication Supported
UART, SPI, I2C/SMBus
CAN, UART, SPI, I2C/SMBus
GPIOs
17
24
The PAC22140 and PAC25140 provide a low power hibernate mode of less than 3µA, enabling long storage time with wakeup from push button, timer or charger detection. The integrated high-voltage buck reduces thermal issues by supporting the system with a 5V regulated supply up to 225mA. An integrated 3.3V-LDO supplies up to 90mA for running additional peripherals. An analog MUX is connected to the SAR ADC for safety checks on internal nodes.
The PAC22140, in volume production today, is available in a 9×9 mm, 60-pin QFN package, while the PAC25140, sampling today with production in April 2023, is available in a 10×10 mm, 68-pin QFN package. Qorvo's PAC22140EVK1 and PAC25140EVK1 hardware development kits enable users to develop intelligent BMS solutions by taking advantage of the fully integrated Arm Cortex-M microcontroller with a BMS-specific analog front-end (AFE). For pre-production samples of the PAC25140 and PAC25140EVK1 please contact a Qorvo sales representative.
For more information about Qorvo's advanced solutions for power applications, please visit our Intelligent Battery Solutions and Intelligent Motor Controllers sites.