With a total of eight Gigabit Ethernet channels, the G51 CompactPCI Serial SBC makes full use of the capabilities of the QorIQ processor. This makes it a universal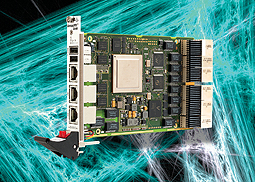 communications platform that also comes with high computing performance.
The G51 is based on Freescale's P3041 QorIQ quad-core processor and offers as many as eight Gigabit Ethernet ports. Three of these are available at the front, and five at the rear. Where needed, you can switch all eight Ethernet channels to the backplane without additional hardware modifications, also due to CompactPCI Serial and its specified full-mesh functionality.
The G51's other I/O functions are just as flexible: One of a total of two rear SATA interfaces can alternatively control an mSATA disk. In addition, there are four PCIe ports at the rear and a total of eight USB 2.0 interfaces – six at the rear, and two at the front. The two front USBs can again complete the eight available channels on the backplane, as an option.
The manifold capabilities for interface configuration, paired with the calculation power of the QorIQ multi-core processor, make the G51 the perfect centerpiece in communication and data processing systems.
Additionally, the G51 offers eight Gbytes DDR3 SDRAM, one MicroSD card slot, a number of board management functions and Linux BSP support.
The extended temperature range, the components being soldered for protection against shock and vibration, and the options of conformal coating and robust M12 connectors also make the board best equipped for use in harsh environments. EN 50155 compliant and prepared for the E-mark, the SBC is fit for applications in the railway and avionics sectors, in marine computing or in automation and in the energy sector.
MEN Mikro Elektronik
www.men.de