COM Express Type 6 compact module with AMD R-Series processors


With the R-Series, the second generation of the so-called "Fusion" products, AMD has brought to the market an optimal platform for applications that place the highest demands on graphics and video visualization, video coding and 3D computations. This compact and efficient two-chip solution is also a technological leader in the field of direct drive of up to four high-resolution displays with independent image content.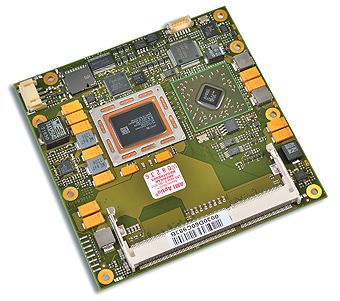 MSC Vertriebs GmbH's high-performance MSC C6C-A7 COM Express module family in compact form factor is based on AMD's Embedded R-Series platform and features the new Type 6 pin-out. Among other things, this enables optimal support of a large range of display interfaces and offers the freedom to choose between dual-core and quad-core processors.
Ingenious solution for graphics- and video-intensive applications
AMD's Embedded R-Series Accelerated Processing Units (APUs) feature a very powerful integrated graphics controller and high parallel computing performance with low power dissipation. In the implementation described here, only processors in FP2 BGA package are used. In contrast to the socket-mounted PGA versions, the FP2 BGA versions feature an especially compact form factor and lower power consumption. Hence, the thermal management of smaller system designs is also significantly simplified. Four processors in different performance ratings – from AMD R-252F with 1.7GHz and two cores up to AMD R-460L with 2.0GHz and four cores – are currently available. The clock frequency can be up to 2.8GHz in turbo mode. Thermal Design Power (TDP) of the APUs ranges from 17 to 25 Watts. Average power is expected to be significantly lower than this for normal applications.
Thanks to the Radeon HD 7000G Series graphics engine integrated into the AMD R-Series APU, in addition to excellent graphics performance, the platform offers support for DirectX 11, OpenGL 4.2 and OpenCL 1.1. Up to four independent displays are supported. By means of MPEG4-, MPEG2- or H.264-decoding, two Full HD video streams can be decoded simultaneously. A video compression engine (VCE) accelerates the encoding and decoding of HD video streams and enables transcoding in real-time.
The design of the COM Express module supports three Digital Display Interfaces (DDIs), which can be operated as DisplayPort 1.2, HDMI or DVI. In addition, VGA, 24-bit dual-channel LVDS and embedded DisplayPort (eDP) are available.
Through the DisplayPort 1.2 standard, it is possible to transmit four display data streams to display on four HD monitors via the three existing interfaces and by means of a multi stream transport (MST) hub or display daisy-chaining. These four different display contents can also be combined together to a 2×2 video wall in order to display a video across four monitors. If four displays are not enough, the AMD solution offers the possibility to combine an additional AMD Radeon Embedded 6000 Series graphics controller – either in the form of a graphics card (PEG slot or MXM form factor) or integrated on the baseboard – with the integrated graphics controller in order to drive a further six displays. Thus, up to ten monitors with different contents or a video wall with up to ten monitors can be driven from a single processor module.
With applications that are extremely compute performance-hungry, by means of OpenCL 1.1 or Microsoft DirectCompute, in addition to the CPU cores, the high performance computing ressources of the graphics controllers can be used for floating point, vector and image processing tasks, in addition to the CPU cores.
A further increase in performance is achieved through the AMD Turbo CORE 3 technology. Depending on the application, CPU cores or GPU are overclocked for a short period and automatically in order to make additional performance available when required. In doing so, the admissible power dissipation budget is not exceeded, because a return back to normal operation is made in a timely manner.
A special secure asset management unit accelerates the data processing and data encryption and decryption without excessively loading the CPU. This is an interesting feature when dealing with safety-critical applications.
Why Type 6 pin-out?
With Type 6 pin-out, there are two significant changes as compared to the widely adopted Type 2 pin-out. USB 3.0 is also now supported as well as up to three Digital Display Interfaces (DDI) that can be used as Digital Visual Interface (DVI), High-Definition Multimedia Interface (HDMI) or DisplayPort (DP). The increasing shift in recent years towards these new interfaces was the key motivation for definition of new COM Express pin-outs by PICMG (PCI Industrial Computer Manufacturers Group).
It was previously relatively complex to connect digital monitors to Type 2 modules. Either additional converter chips on the baseboard were necessary for this, which mostly generated HDMI or DVI from the Serial Digital Video Output (SDVO) signals, or the Digital Display Interfaces (DDI) of the core logic (CPU/chipset) were multiplexed on the PCI Express Graphics (PEG) lines, which however did not exactly comply with the COM.0 standard and also required special support on the baseboard or via adapter cards. With Type 6, dedicated DDI lines have now been provided, which only require suitable monitor connectors on the COM Express carrier board. Additionally, an embedded DisplayPort (eDP), which can optionally also carry Low-Voltage Differential Signaling (LVDS) signals, is provided for system-internal displays.
USB 3.0 with up to 5 Gbit/s, which is up to ten times faster than USB 2.0, has rapidly established itself and is directly offered by current chipsets. External hard drives and Flash-based solid-state drives (SSD) with USB 3.0 are already standard. In addition, an increasing number of other devices with high data rates, for example cameras, use the new USB 3.0. With Type 6, pins were freed up for the necessary additional lines so that up to four USB 3.0 connections can be implemented. Four additional USB 2.0 interfaces are also possible.
A number of further changes were proposed by members of the COM.0 standardization group within the PICMG. The number of possible PCI Express lanes was increased from six to eight. SDVO, although in future increasingly less supported, is now multiplexed with one of the Digital Display Interfaces (DDI) and no longer with the PEG signals. In addition, two traditional serial ports (only receive lines/transmit lines), which can be optionally supported, were added. Furthermore, control of a fan, which is connected via the baseboard, and an optional CAN bus interface are now offered. The support of a Trusted Platform Module (TPM) device was improved for increased security and a lid switch signal was added for mobile systems.
Because the total number of available 440 COM Express pins did not change, the legacy PCI and IDE interfaces had to be sacrificed. These parallel interfaces freed up sufficient pins for the new requirements.
Benchmarks
In order to verify processor manufacturer's data on its own hardware designs, MSC regularly carries out extensive benchmark tests with various popular benchmark programs such as PCMark, 3DMark and Cinebench. The use of this selection of programs also enables making comparisons to benchmark results already published in the print media and on the internet. With the AMD R-Series APUs, the exceptional graphics performance, which till now could only be achieved with discrete graphics controllers, stands out in particular. With the Cinebench OpenGL values, even Intel's Core i5 processors were beaten by the significantly more cost effective AMD solutions.
Suitable baseboards
Users of COM Express modules changing over to the new Type 6 pin-out are faced with the problem that they would like to test and evaluate the new standard; however, their own operational baseboard is often still a long way off. The module manufacturers offer evaluation boards and starter kits for such cases and, of course, as a platform for timely, simultaneous software development.
MSC C6-MB-EVA universal evaluation carrier board
With the MSC C6-MB-EVA, MSC provides a board that fulfills almost every wish. The carrier board, in ATX form factor of 12 inches × 9.6 inches (305 mm × 244 mm), offers numerous interfaces and bus connectors in order to quickly implement experimental set-ups and prototype configurations. The board fits into a conventional ATX case and offers, in addition to a plug-in position for COM Express modules in the basic or compact form factor, all connection options for displays and monitors, which are supported by the Type 6 pin-out. These include several DisplayPort (DP), DVI/HDMI and embedded DisplayPort (eDP) connections, in part on connectors on the I/O shield fed to the outside and in part internally available. HD audio signals are available via HDMI, jacks or SPDIFF. Besides one slot each for Mini PCI Express and mSATA cards, a SD card socket, connectors for networks, Ethernet, SATA, USB 2.0, USB 3.0 and a number of different PCI Express slots, the board also offers a POST code display for troubleshooting.
MSC C6-AD-T6T2 compact and versatile platform
As an alternative, there is a complete starter kit comprising of a freely selectable COM Express module with AMD APU and a compact baseboard, which offers the most important connectors, above all the newly available Type 6 interfaces (DDI, USB 3.0, etc.). The small board with dimensions of 140 mm × 184 mm comes with surprisingly many interfaces including, of course, three each DisplayPort and HDMI connectors. However, USB 3.0, Ethernet, VGA, HD audio, SATA and even a PCI Express x4 slot also found a place. In most cases, this means that a quick implementation of an initial test configuration should be easily feasible.
Wide range of possible applications
Thanks to its high computing and graphics performance, the MSC C6C-A7 module family is especially suited for demanding applications with 3D graphics, high definition videos and for driving large-format displays in very diverse solutions.
Medical devices: Complex image processing and visualization – for example, with computer-aided diagnostics and in surgery – is becoming more and more important in health care. In addition to excellent graphics performance, this is where use of the GPU through OpenGL can be very useful for complex calculations.
Digital signage: Driving up to four independent HD displays, which can also be connected together as a video wall, or driving a 4K monitor – and this with a single cost-effective and energy-efficient computer platform – offers new possibilities here. All of this is further supported by hardware-accelerated video decoding and up to two independent HD video streams.
Casino gaming: With up to four independent displays on a low-power platform and comprehensive security functions, there is enormous savings potential for gaming machine manufacturers compared to earlier systems with several processors and additional graphics cards.
Furthermore, the versatile MSC C6C-A7 module family is also suited for other embedded applications in a wide range of fields, including industrial automation, Point of Sale (POS), Point of Interest (POI) and kiosk systems as well as infotainment in any form of transportation.
The COM Express™ Type 6 module MSC C6C-A7 from MSC Vertriebs GmbH in the Compact form factor are characterized by very powerful graphics and high parallel computing performance with low power dissipation. Today, there are four processor variants available. For power demanding applications, the MSC C6C-A7 computer-on-modules integrate AMD R-460L 2.0GHz (2.8GHz Turbo) or AMD R-452L 1.6GHz (2.4GHz Turbo) quad-core processors. The thermal design power (TDP) levels are 25W and 19W, respectively. The two dual-core versions are populated with the AMD R-260H 2.1GHz (2.6GHz Turbo) processor or the AMD R-252F 1.7GHz (2.3GHz Turbo) processor – each featuring 17 W TDP. The processors support the AMD64 technology and the AMD-V™ virtualization technology. The AMD Fusion Controller Hub (FCH) A75 chipset was also selected. The main memory can be expanded to 16GB DDR3- dual-channel SDRAM via two SO DIMM sockets.
The Radeon HD7000G-Series graphics engine integrated into the AMD R-Series APU, with its excellent graphics capabilities, offers support for DirectX 11 and OpenGL 4.2. The additional graphics controller computing power for arithmetic tasks is possible via OpenCL 1.1 or DirectCompute. The modules support up to four independent displays and support hardware video decoding for two parallel video streams. The video compression engine (VCE) accelerates the HD video stream coding and real-time transcoding.
With Type 6 pinouts, the COM Express module family offers six PCI Express™ × 1 channels and a PCI Express graphics (PEG) × 8 interface. In addition, all modules feature four USB 3.0 and four USB 2.0 ports, LPC, Gbit Ethernet, HD audio and four SATA interfaces at up to 6 GB/s are available. With three digital display interfaces as DisplayPort 1.2, HDMI 1.4 or DVI with resolutions of up to 4096 × 2160, along with LVDS, Embedded DisplayPort and VGA interfaces, the MSC C6C-A7 modules offer comprehensive display support.
The high-performance MSC C6C-A7 platform uses the UEFI firmware from AMI, which has beed adapted to the special hardware. For direct access to special module functions, the EAPI programming interface according to the COM.0 specification has been implemented. With this Qseven™ and COM Express™ modules have an identical open software interface used by several COM manufacturers to e.g. ensure the access to watchdog, GPIOs, display features and I²C bus.
Driver support and BSPs for different Microsoft Windows and Linux variants are available.
In addition to the embedded modules, MSC offers a corresponding Starter Kit and carrier boards, as well as cooling solutions and memory modules.
Author: Konrad Löckler
www.mscembedded.com