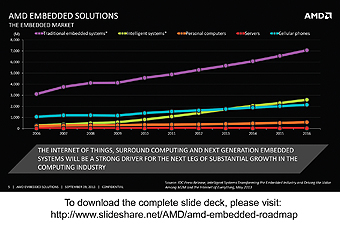 AMD disclosed its roadmap for the fast-growing embedded computing market, as it becomes the first company to offer both ARM and x86 processor solutions for low-power and high-performance embedded compute designs. The new lineup includes two best-in-class x86 accelerated processing units (APUs) and central processing units (CPUs), a first look at a high-performance ARM system-on-chip (SoC) and a new family of discrete AMD Embedded Radeon graphics processing units (GPUs) expected to launch in 2014. These additions provide the embedded industry's engineering community with more choices to match their exact design needs, and are designed to offer improvements in performance-per-watt and performance-per-dollar. Together with the recent launch of the award-winning AMD Embedded G-Series SoC family that set a superior bar for performance-per-watt low-power multicore APUs, these latest additions to the embedded product roadmap further signify a strategic push by AMD to focus on the high-growth embedded market.
The embedded systems market is vast and forms the underpinning for the Surround Computing era. This market is comprised of different segments of which intelligent embedded devices – those enabled with high-performance microprocessors, IP connectivity, and high-level operating systems — are quickly becoming the most significant. A recent VDC Research report indicates the market for CPUs in traditional and intelligent embedded systems will grow 36 percent from roughly 330 million units in 2013 to more than 450 million units by 2016 with x86 and ARM architectures accounting for 82% of the total addressable market (TAM). In 2014, AMD plans to bring to market two new high-performance AMD Embedded R-Series processor families: the "Hierofalcon" CPU SoC family based on the ARM Cortex-A57 architecture and the "Bald Eagle" APU and CPU offering based on the x86 microprocessor architecture codenamed "Steamroller." The upcoming "Steppe Eagle" APU SoC is designed to provide improved performance while extending the low-power characteristics of the current AMD Embedded G-Series SoC family. In addition, "Adelaar" will bring to market the first discrete GPU based on AMD Graphics Core Next architecture for embedded systems.
"Hierofalcon" is the first 64-bit ARM-based platform from AMD targeting embedded data center applications, communications infrastructure and industrial solutions.
AMD
www.amd.com